Iraqi Christians in Mosul Celebrate Christmas For First Time in 3 Years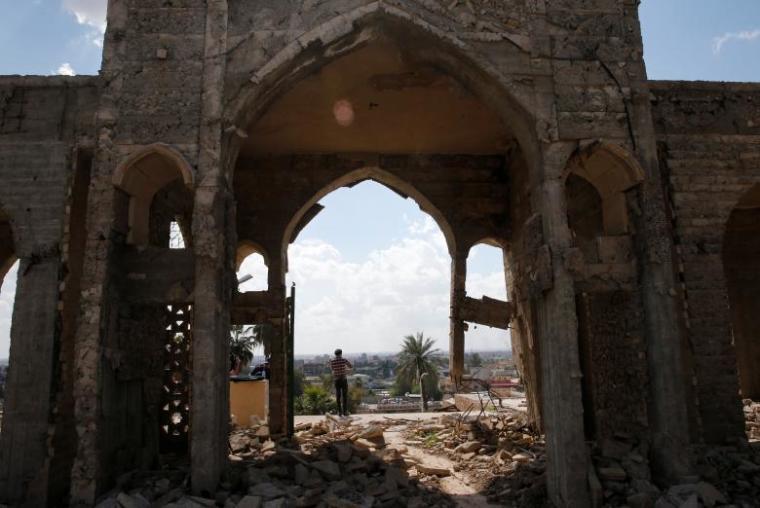 Christians in Iraq attended a Christmas service in Mosul for the first time since Islamic State militants took over the city in 2014, hoping they will soon be able to return to their homes.
Armoured vehicles guarded Saint Paul's, the only functioning church in Mosul. Its bombed-out window frames were covered with white sheets during the Christmas service, the BBC reports.
The patriarch of Iraq's Chaldean Catholic Church, Louis Raphael Sako, urged the worshipers to pray for "peace and stability in Mosul, Iraq and the world."
Islamic state, also known as IS, ISIS, ISIL or Daesh, was driven out of Mosul in July, but Christians are yet to rebuild their lives and their homes. Less than a dozen Christian families have been able to return to the city thus far.
"The situation made us so sad," Voice of America quoted Fadi, a worshiper, as saying. "This is our city, our grandparents' city. We lived here, we grew up here. We built our schools, universities, churches families and friends here."
In the Nineveh Plains, which was also liberated from IS a few months ago, Christians earlier this month celebrated the reconsecration of the first church, St. George's, to be reopened there since IS was driven out of the region.
"ISIS wanted to eliminate the Christian presence here — but ISIS is gone and the Christians of Telleskuf are back," Chaldean Archbishop Bashar Matti Warda of Erbil, Kurdistan, said at the ceremony in Telleskuf.
"I am moved by the fact that the church of St. George has not only been reopened, but that it has become more beautiful and glorious than before. That is the way God's Providence work," the archbishop declared.
About 80,000 Christians have yet to return home and remain displaced inside of the country as winter has arrived, Juliana Taimoorazy, an Assyrian Christian who founded the Iraqi Christian Relief Council and serves as a senior fellow at the Philos Project, told The Christian Post last week.
She said as many as 50,000 Christians have returned to their homes. Between 150,000 and 180,000 Iraqi Christians were displaced when IS took over in 2014.
"There are many who left Iraq. They went to Turkey. They went to Lebanon. They went to Jordan. The number of Iraqi Christians that are in Turkey is about 45,000. In Jordan, it is about 20,000. In Northern Iraq, we probably would want to say that there are at least 80,000 to 100,000 are displaced in the Northern Part of Iraq."
Taimoorazy added: "While those aren't official numbers, as there isn't a way of counting these people with no census system in place, these numbers are provided to Iraqi Christian Relief Council by various aid organizations and officials from Iraq."