Is Economic Liberty Necessary for Religious Liberty?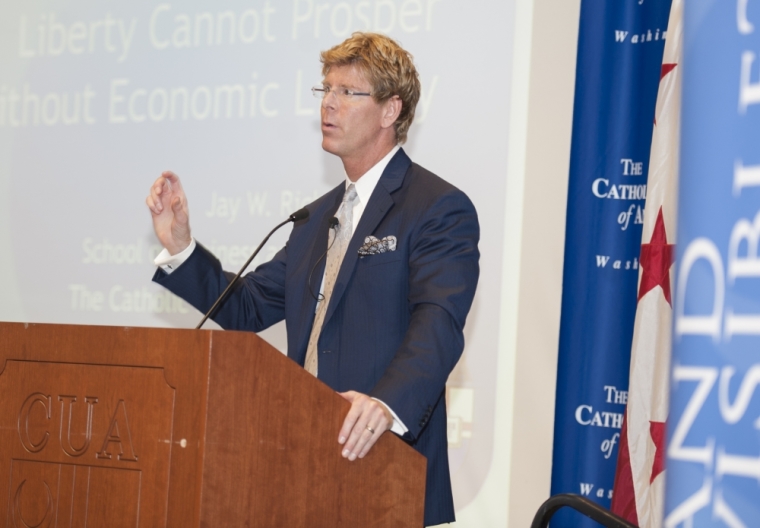 WASHINGTON — Can churches have religious freedom in a nation without economic freedom? This issue was explored Monday at an Acton Institute conference hosted by the Catholic University of America.
While the relationship between economic and religious freedom is complicated, religious freedom advocates should also champion economic freedom because they both rely upon some of the same foundational principles, several of the speakers argued.
There are four major themes in the Second Vatican Council's Declaration on Religious Freedom, also known as Dignitatis Humanae, which is Latin for "of the dignity of the human person," noted Jay Richards, assistant research professor in the School of Business and Economics at CUA: Religious freedom should be based upon 1) the fundamental dignity of every human person, 2) freedom of association, 3) the rights of parents to raise their children according to their beliefs, and 4) the God-ordained but limited role of government.
A case for economic freedom can also be made based upon those same four principles, Richards argued. The "defenses are more or less the same."
There is also a strong correlation between economic freedom and religious freedom, Richards noted as he displayed world maps for measures of economic and religious freedom. The relationship is not perfect, he acknowledged. Some nations have little religious freedom with relatively more economic freedom. And there is not enough research to establish a path of causation, he added while encouraging economics students to take up the task. But, especially at the extremes, there is a "tight correlation" between the two.
Economic and religious freedom are not the same as anarchy, Richards emphasized. Economic freedom depends upon a government that can enforce the rule of law, such as the protection of property rights. So the government must be strong enough to enforce the rule of law, but not so strong that it infringes upon liberty. Similarly, religious freedom does not give citizens the right to do anything they want as long as they claim a religious belief.
Historically, economic and religious freedom emerged together only in the Judeo-Christian West, Richards added, citing mostly the work of Rodney Stark.
While there is not enough evidence to prove it, Richards suspects there is a "positive causal feedback" among political, economic and religious freedoms, such that those freedoms can serve to either reinforce each other, or degrade each other.
Richards encouraged religious freedom advocates to stop promoting the cause of religious freedom while ignoring economic freedom, or even while supporting policies that restrict economic freedom.
Too often, he said, Christians have supported government policies because they supported the goals of the policies while ignoring the actual consequences of those policies.
To illustrate this point, Richards used the example of "Obamacare," or the Affordable Care Act. Some Christians supported the new law because they supported its stated goal of increasing the numbers of those with health insurance. The consequences of that law, as Christians now know, has been to infringe upon religious freedom. Christian non-profits and Christian-owned companies have engaged in costly legal battles to protect their right to not pay for types of birth control that are in violation of their religious views.
Christians should have recognized that religious freedom violations are inevitable when they supported giving the government a large amount of control over the economic sphere, he argued.
The two bills that made Obamacare are together 381,573 words, or about the size of the first two books of J.R.R. Tolkien's Lord of the Rings; and the regulations written to implement Obamacare are about 11,588,500 words, according to Richards.
"Whatever you think of the bill," he said, "any bill in which the regulatory apparatus equals 12 million words is inevitably going to have all sorts of unanticipatable religious freedom violations."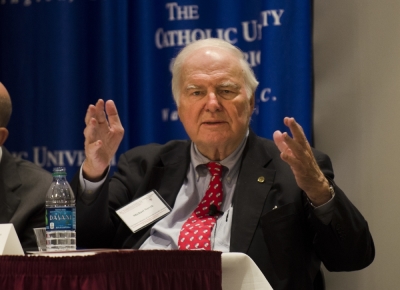 Michael Novak, a theologian, author and former U.S. Ambassador, made a similar point in his remarks.
"Years ago," he said, he would argue with some of the U.S. Catholic bishops that they should stop supporting so many programs that give greater control to the government, because that control could later be used against them. Citing the recent examples of the government infringing upon the freedom of Catholic charities and adoption agencies, he remarked that "the Democratic Party owned the Catholic Church in America, at least at the U.S. bishops headquarters," but the bishops "didn't stop to think, if you give the government the power to do all these programs," the government "can tell [Catholic organizations] what to do."
Religious freedom in the United States is more likely to be restricted by "soft tyranny," or "soft despotism," Novak and Richards both argued while citing philosopher Alexis de Tocqueville.
"The new soft despotism reduces human beings to their merely animal capacities," Novak said. "It does not so much punish the creative as enervate them. It does not so much physically imprison the imaginative and the active, as suffocate them. The new soft despotism, like an invisible gas, slowly chokes all the spiritual energies of vital, energetic human persons, as if to reduce us to contented animals, to domesticate us, to render us dependent, quite tamed, and passive. Munching contentedly in our stalls.
"But true human happiness lies in achievement, in creativity, in the spirited overcoming of obstacles and impediments. All this the new soft despotism would render impossible. A free economy, by contrast, blows out the sails of aspiration and achievement."