Is it a sin to want to die and go to Heaven?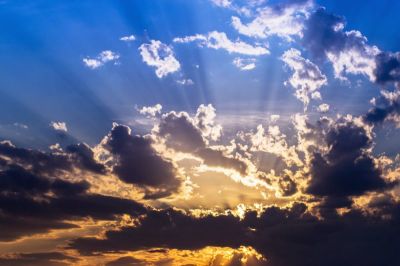 While desiring to be at home with the Lord in Heaven is not a sin, it's important for Christians to walk by faith and trust in God's promises amid earthly pain and suffering, theologian John Piper said.
In a recent podcast, Piper, chancellor of Bethlehem College & Seminary in Minneapolis, Minnesota, responded to a listener identified as Marissa, who asked if it was wrong to desire death as an escape from the pain of this world and from the suffering caused by her own sinfulness.
"I'm 31 years old, and my life is ruined," she wrote. "I dread the rest of my life. Because of sin, I have lost everyone I love most (and I mean everyone). I feel like my very poor choices can't be redeemed while here on earth, even though I have repented and confessed my sins."
Piper first explained that the general biblical answer is that it is not a sin to long for Heaven and for the presence of Christ with a sense of dismay over the sin and sorrows of this world and of our own lives.
"In fact, I would say that the more one knows of the real condition of this world, and the more one grieves over the remaining corruption of our own hearts, the more natural it is to long for Heaven and Christ," he said.
He pointed to the Apostle Paul's words in Philippians 1:23–25: "My desire is to depart and be with Christ, for that is far better. But to remain in the flesh is more necessary on your account. Convinced of this, I know that I will remain and continue with you all, for your progress and joy in the faith."
"In general, to long to be at home with the Lord is not a sin. It is biblical, and it is healthy," Piper said. 
However, he clarified that the reason he said that's the general answer "is that I can imagine a situation when it would be a sin to want to die and go to be with Jesus."
Piper argued that in Scripture, Paul desired to be with Jesus but knew it was not yet God's will for him.
"He took this from the hand of God with confidence that God would give him the strength and the grace for the life that was not his first choice," he explained. "Concerning the life he was going to live as he remained on the earth, he said, 'I know that I will remain and continue with you all, though my first choice would be to go and be with the Lord' (see Philippians 1:23–25)."
The key, Piper said, is found in 2 Corinthians 5, where Paul says, "We walk by faith and not by sight" (2 Corinthians 5:7). He encouraged Marissa to understand that the "ruin and dread that you see in front of you for the rest of your life is not, in fact, reality."
"At least, it need not be," the pastor said. "Jesus is calling you, Marissa, to walk by faith and not by sight. I agree from what you can see with the eyes of your head that the future looks hopeless, dreadful, terrifying, unredeemable. That's true. It does. But that's just not the way you have to live."
The Apostle Paul knew the rest of his life would be full of sorrow and pain, Piper said, adding: "He would be killed for Christ in the midst of afflictions, not in the midst of comfort. That's what he saw with the eyes of the flesh, but with the eyes of faith, he saw miracles happening in him and through him."
Piper offered the reminder that God's promises for His people are found throughout Scripture, including in Isaiah 56:5: "I will give in my house and within my walls a monument and a name better than sons and daughters; I will give them an everlasting name that shall not be cut off."
"Yes, Marissa, long for Heaven, long for Christ, long for the day when we will sin no more," he concluded. "But trust His promises now, like Paul as he faced a painful future and walked by faith, not by sight. God's promise for you is fruit in the midst of this sorrow."
According to the Centers for Disease Control and Prevention, suicide was one of the leading causes of death in 2017. The overall suicide rate has grown by nearly 30 percent over the past 15 years, prompting some to call it a new public health crisis.
In light of this sobering reality, a number of pastors and church leaders have weighed in on the issue of mental illness, suicide and the afterlife in recent years.
Saddleback Church pastor Rick Warren, who lost his son to suicide in 2013, previously encouraged those struggling with anxiety and depression to remember that focusing on Heaven places suffering in perspective.
He cited 1 Corinthians 2:9: "No eye has seen, no ear has heard, and no mind has imagined what God has prepared for those who love him."
"When you start focusing on truths like that, all of your problems seem inferior compared to the glory, the joy, and the pleasure of the things awaiting us in eternity," he said. "Ask God to help you make the choice every day to feed on God's Word, free your mind of destructive thoughts, and fill your mind with Jesus, others, and eternity. Then you'll have won the battle."