Is it OK for Christian radio stations to play secular holiday music for Christmas?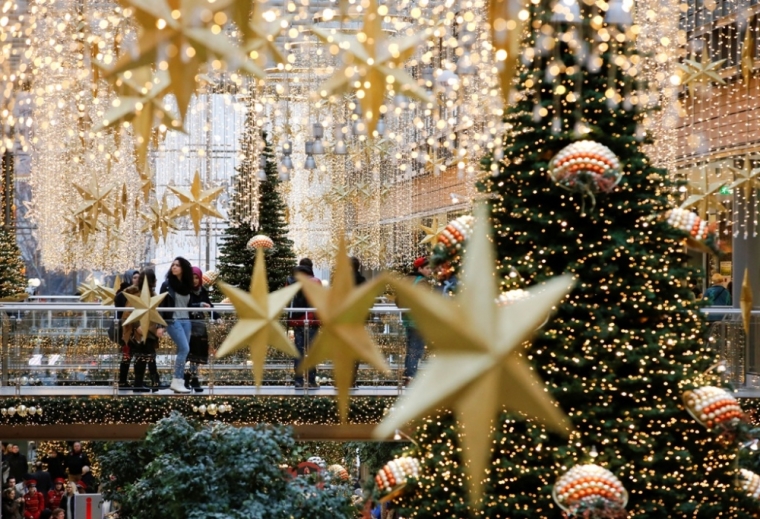 During Christmas, many Christian radio stations decide to include secular holiday music in their programming, while others decide to have exclusively sacred songs on their airwaves.
Thomas Evans, president and general manager at Family Stations, Inc., told The Christian Post that his radio station prides itself on having always included "traditional biblical music."
"Our Christmas programming is no exception. So beginning the day after Thanksgiving until December 31st, Family Radio airs some of the best, most traditional Christmas carols, hymns and cantatas," said Evans.
"The evening of Christmas Day, Family Radio airs the complete Handel's Messiah over all of our stations and web streams."
Evans went on to tell CP that to his knowledge Family Radio has never aired secular holiday favorites, noting that they have an extensive library of sacred music to use for their Christmas programming.
"Given our extensive Christmas music library, our challenge is to cull through the many possible selections, rather than attempt to supplement our on-air content with secular or well-known Christmas carols or songs," he said.
"With so many wonderful uplifting songs within Christendom, why would we need to air songs that feature Rudolf or Santa, when we can rejoice at the incredible news that our Savior was born in Bethlehem?"
In recent times, some Christian radio stations have included nonreligious Christmas season music, such as "Rudolph the Red-Nosed Reindeer," "Jingle Bells," and "I'll be home for Christmas."
Much online conversation and debate have transpired over the inclusion of secular music on Christian stations, with some stations getting complaints over their decision.
"So much of the music on the Christian station is secular – lots of songs about Santa and reindeers and snow," wrote George Sinclair of The Gospel Coalition of Canada in December 2017. 
"Is it too much to ask the Christian radio station to leave secular Christmas to secular stations and to let the Christian station be, well, Christian?"
In 2016, the Cincinnati, Ohio-based Christian music station Star 93.3 reported getting listener complaints over their inclusion of secular holiday music.
"Our message in between the songs is about God and Jesus and the reason for the season," stated Jeff Evans of Star 93.3 in defense of the practice, as reported by nola.com.
Earlier this year, one listener of the Omaha, Nebraska-based K-LOVE posted on their Facebook page a lament, stating, "I can hear those anywhere but I tune into KLOVE to hear my Christian favorites! Please don't water-down your message with secular Christmas songs."
"Thank you for sharing your thoughts with us regarding the songs we have selected for our Christmas music. We have passed them on to our Programming Team," replied a K-LOVE staff member.
Dwayne Harrison, music director at Positive Hits PER, which is based in Fredericksburg, Virginia, directed CP to a statement in which his station explained that the usage of secular holiday songs was part of their outreach to the broader culture.
"Our Christmas classics are a way to get people to land on Your 'PER, and hopefully stay! You may even have an opportunity to share the station with friends and family who may not have listened before — as they hear Christmas favorites, they'll also hear messages of how much God loves them," read the statement.
"As these secular songs air, they're surrounded by other Christmas songs with strong Christian content and the message of Christ, along with station imaging that lets them know how much they are loved."
According to Harrison, PER has used secular holiday songs since the station's founding in 1999, focusing primarily on hit songs from the 1940s and 1960s.
"Those that are instantly familiar and recognized as the classics of the season by artists like Nat King Cole, Andy Williams, Johnny Mathis, Bing Crosby and the like. Songs that are so iconic that they transcend the artist singing them," explained Harrison.
"We avoid songs that are centered on Santa and other secular icons of the season: 'Here Comes Santa Claus,' 'Frosty,' 'Rudolph,' etc., as well as those by artists who are in the contemporary mainstream."
Harrison also told CP that they had received few complaints over their music choices, noting that "we had more people who were sad we backed off a bit from our 'all Christmas music' strategy this year."
When it comes to Christian radio stations that do not use secular holiday music, Harrison said that he respects other stations efforts' "as they follow their strategy to reach their objectives."
"That's what I love about radio; there is no 'one way' to do it.  As one of my former consultants often said, it's all about 'what are you trying to accomplish?'" added Harrison.
When asked by CP his opinion of Christian stations that play secular music during the Christmas season, Evans of Family Radio replied, "We leave that to them to decide what they air."