Is Liberal Media Protecting Donald Trump?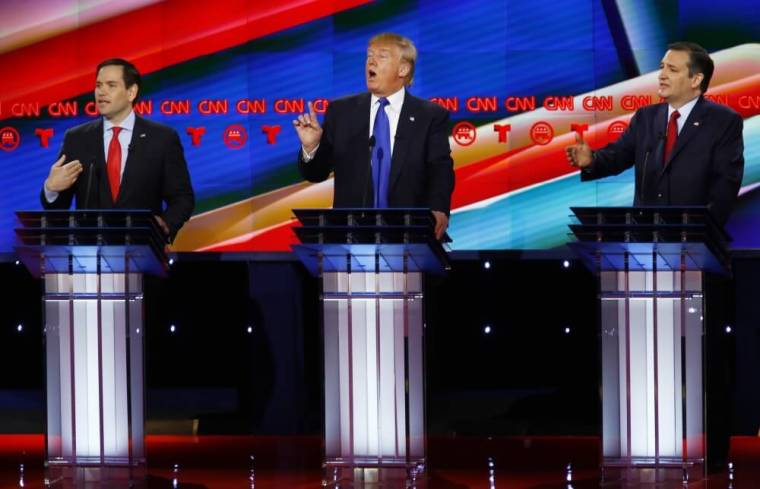 The country's liberal media is being accused of ignoring Donald Trump's alleged business scandals and past support for liberal policy positions and giving far more time to his events than those of his rivals.
When CNN moderator Wolf Blitzer appeared to help Trump in CNN's GOP debate by interrupting to move to other questions when it got rough for the Republican frontrunner more than a couple times on Thursday night, it was seen as an attempt to bail out Trump.
"Trump has damaging back & forth with Rubio / Cruz … Wolf: Hold on guys, I want to ask a follow-up question. Now, Governor Kasich…," tweeted a blogger, Matthias Shapiro.
"This debate was 15 minutes of Rubio crushing Trump, 10 minutes of Cruz crushing Trump and 2 hours of media interrupting to protect Trump," read another tweet, by one Flint Crewneck.
During the post-debate session, Trump was interviewed twice. And on Saturday, CNN covered Trump events most of the afternoon, while giving hardly a few seconds to Marco Rubio.
It's not just CNN, MSNBC also had a town hall with just one GOP candidate, Trump.
"As of Friday, Trump's seven-month-old candidacy has been the focus of an incredible 684 minutes of coverage on ABC, CBS and NBC evening newscasts, far more than any of his GOP rivals — more than four times as much as the next-most-covered candidate, former Florida Governor Jeb Bush (151 minutes), and more than five times as much as Texas Senator Ted Cruz (122 minutes), currently Trump's leading rival in the polls," pointed out Media Research Center's NewsBusters on Jan. 28.
"But amid that sea of Trump news, the networks have spent only about nine minutes (1.3% of Trump's overall coverage) discussing the candidate's clearly documented past support for liberal policy positions (i.e., pro-abortion, single-payer health care) and his praise of leading Democrats, including Democratic frontrunner Hillary Clinton."
Former Republican candidate Jim Gilmore has also criticized media coverage of Trump.
"They're frustrated and they're angry, and they're looking for a radical solution," Gilmore said on CNBC's "Sqauwk Box" Friday. "And surely Trump is offering them a radical solution. He said, 'Well, I can just go out and shoot somebody and it won't make any difference.'"
Gilmore added: "He also, by the way, said he didn't have to spend any money because he gets all free broadcasting. And that's what we're doing right now. We're giving him free time right now. And that's an issue that has to be addressed in the future, as the FCC (Federal Communications Commission) needs to address this problem of the free advertising they're giving to selected candidates like Donald Trump."
The New York Times, which ran an article about Rubio's speeding tickets, didn't write about Trump's alleged business scandals until it was brought up at the debate Thursday night. Rubio blasted liberal media for the "bias."
"… You have a guy who's being sued right now for fraud for Trump University. And I've had stories written about my driving record, you know, that we had red light camera tickets," Rubio said on NBC's "Today" on Friday morning.
"I had some guy go back and write a story about how when I was 18 years old, I got arrested – or cited, I should say – for drinking beer in a park after hours. And here's a guy who's being sued for fraud, for defrauding people," Rubio continued. "Here's a guy who had to pay a judgment for hiring Polish workers illegally to build Trump Towers. And he's being treated with kid gloves by many in the media, in the hopes that he's the nominee. Some of them are biased, they'd love to see a liberal like Donald Trump take over the Republican Party, and others know he's easy to beat once he gets there."
Rubio told George Stephanopoulos of "Good Morning America": "For those who are biased, this means you will have a Republican nominee who basically agrees with Hillary Clinton on Planned Parenthood, on being neutral on Israel" and the economy. For those who are biased, this means you will have a Republican nominee who basically agrees with Hillary Clinton on Planned Parenthood, on being neutral on Israel and the economy."
On CBS News "This Morning," Rubio said: "If any other candidate in this race had his record, there would be nonstop reporting on it. But, unfortunately, he is being pumped up because many the in the media with a bias know he'll be easy to beat in the general election."
However, Trump claims that the reality is otherwise, as he has threatened to sue publications, especially The New York Times and The Washington Post, for writing negatively about him.
"One of the things I'm gonna do, and this is only gonna make it tougher for me, and I've never said this before, but one of the things I'm gonna do if I win … is I'm gonna open up our libel laws so when they write purposely negative and horrible and false articles, we can sue them and win lots of money. We're gonna open up those libel laws," Breitbart quoted Trump as saying during a rally in Texas Friday.
"So that when the New York Times writes a hit piece which is a total disgrace, or when the Washington Post … writes a hit piece, we can sue them and win money, instead of having no chance of winning because they're totally protected."