Is Psalm 2:8 About God's Promise to Christ, or About 'Your Hidden Dreams' and 'Unborn Promises?'
Joel Osteen Ministry Facebook Supporters Take Issue With Misuse of Messianic Passage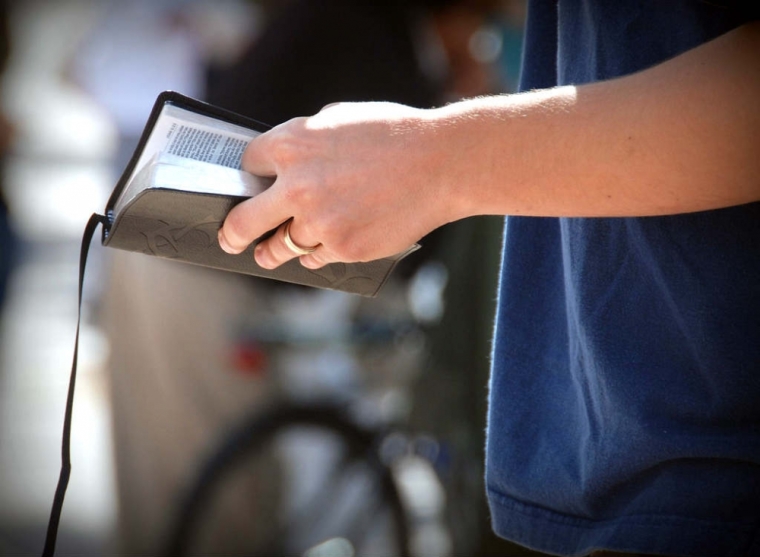 A recent post appearing on the Joel Osteen Ministries Facebook page suggests that a Bible passage commonly interpreted as God's invitation to the Messianic King was also applicable to believers. Amid an overwhelming number of "amens," however, there were a handful of people who insisted that the popular passage had been taken wildly out of context.
The post that ruffled the feathers of a few Osteen Facebook supporters was centered on Psalm 2:8, part of a fuller passage that theologians interpret as applying specifically to the Davidic king, in this case, Jesus Christ: "Ask of Me, and I will give You the nations as Your inheritance, and the uttermost parts of the earth as Your possession."
According to the JOM Facebook page, which has more than 7.7 million followers: "God is saying, 'Ask Me for those hidden dreams that I've planted in your heart. Ask Me for those unborn promises that may seem unlikely to happen in the natural.'"
One JOM Facebook follower, so taken aback at the use of the verse, went so far as to suggest that its appropriation was "blasphemous scripture twisting."
"It needs to be read in context and the context is not us getting what we want," the commenter added.
Another commenter wrote in agreement, "Yes!!! There are so many verses that people twist or leave the beginning or end off. Sometimes those verses were meant for specific people at a specific time. It wasn't directed to us. …"
"That verse is out of context. That verse is referring to the Messiah, no(t) for a man. It is just referring to our Lord Jesus! You guys got to read more [of] the Bible," wrote another JOM supporter.
But those critical comments were only a drop in the bucket compared to the deluge of more than 12,900 comments affirming the post, expressed in the form of "Amen!" or "Thank you, God!"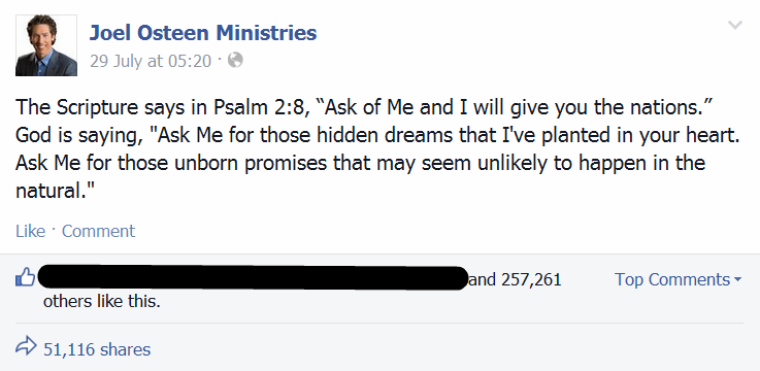 The Joel Osteen Ministry Facebook page was not alone in its peculiar use of Psalm 2:8, as a search on another popular social network reveals.
According to Twitter, some Christians have used the messianic passage to mean:
"The nations shall be our inheritance if we could just ask!!"
"God will give you nations as a present and continents as a prize."
"When you ask BIGGER God will act BIGGER."
As for British pastor the Rev. Colin Dye, "We need the audacity to ask God for big things — as in Psalm 2:8. We should not be intimidated or limited by the suggestions of the enemy in how often we approach God's throne, or what we ask when we get there."
Minister Doug Addison, a self-described "Prophetic dream interpreter" and "Tattoo Prophet," even suggested in a 2013 tweet that a magnitude-2.8 earthquake was a "huge sign" and that "something shifted." He added, "Psalm 2.8 God is opening something new."
Dr. David Lamb, associate professor of Old Testament at Biblical Theological Seminary in Hatfield, Pennsylvania, responded specifically to The Christian Post's questions about how the Joel Osteen Ministries Facebook page uses Psalm 2. The professor and God Behaving Badly author called the passage's use in this context "a creative misinterpretation."
Lamb wrote in an email to CP that in Psalm 2:8, "God is still speaking to the person he began speaking to in the previous verse…"
Psalm 2:7b reads: "He said to me, 'You are my son; today I have begotten you…'"
Lamb explained, "The New Testament interprets Psalm 2:7 as applying specifically to God's son, Jesus (Acts 13:13; Heb. 5:5), but not to Christians generally."
"In a general sense, the people of God are considered children of God, but in Psalm 2 God is speaking to a particular individual, his anointed ruler who is undergoing massive persecution from the surrounding kings. In Psalm 2, God is promising his ruler an inheritance and possessions, which he will then use to smash his enemies in the following verse (Psa. 2:9). Telling people to appropriate the promise of verse 8 without reading it in light of verses 7 and 9 is irresponsible. One needs to read verses in context."
Lamb also pointed to Acts 4:25-26, in which the nascent and persecuted Christian community in Jerusalem is recorded as referencing Psalm 2 in a desperate prayer to God. The Acts passage records the community's belief that the Holy Spirit used King David to write Psalm 2 about God's "holy servant Jesus, whom (He) anointed."
"In their prayer, the new believers quote Psa. 2:1-2, speaking of Jesus' persecution, but they use it in the context of Acts 4 to empower them to be bold in the face of persecution that Peter and John just faced," added Lamb.
Psalm 2 is just one among a slew of Biblical passages that Christians tend to quote as personal affirmations and reminders that God is for them. The trouble is, these powerful passages are oftentimes taken so out of context, that readers tend to forget that in actuality, these scriptures are rarely (if ever) about them.
Two other examples of misinterpreted or misapplied verses are Jeremiah 29:11 and Philippians 4:13. Read about them here: Can You 'Do All Things Through Christ' Even at Your Worst? A Closer Look at Philippians 4:13) and (Jeremiah 29:11 Is Not About 'You;' Frequently-Quoted Bible Verse Often Misinterpreted).