Is the White House Pandering to LGBT Community in an Effort to Salvage Foundering 'Obamacare' Program?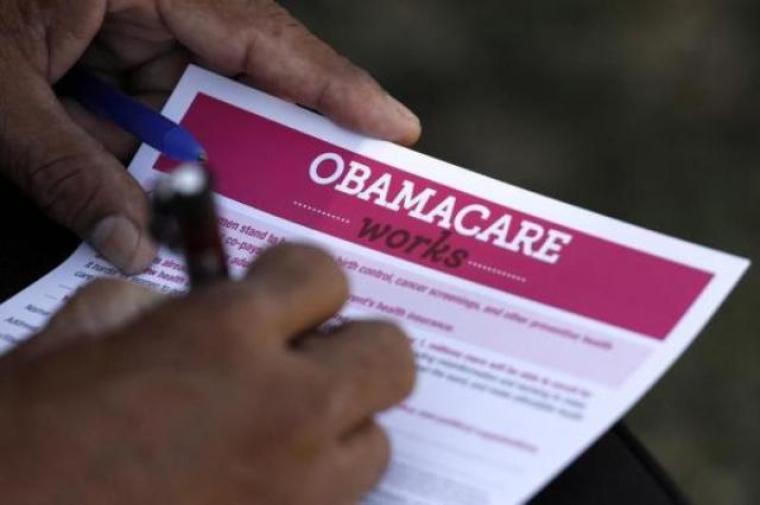 Following the White House release Tuesday of an infographic for the LGBT community that contains a list of five reasons why they'll benefit from "Obamamcare," came the gift of "pajama boy," a Wednesday op-ed written by First Lady Michelle Obama and an Oval Office meeting with moms, all to promote the Health Insurance Marketplace on healthcare.gov.
According to the Obama administration, which claims that the "Affordable Care Act has the potential to transform the lives of countless LGBT people," the five benefits for enrollees include:
1. "Plans purchased through the marketplace can't discriminate based on sexual orientation or gender identity."
2. "You can't be charged a higher premium just because you're lesbian, gay, bi-sexual or transgender."
3. "No denial of coverage because of pre-existing conditions, like HIV/AIDS, cancer or mental health diagnosis."
4. "Legally married, same-sex couples are treated equally for financial assistance when purchasing coverage in the health insurance marketplace, regardless of where they live."
5. "No more lifetime limits on coverage for people with chronic diseases, like HIV/AIDS."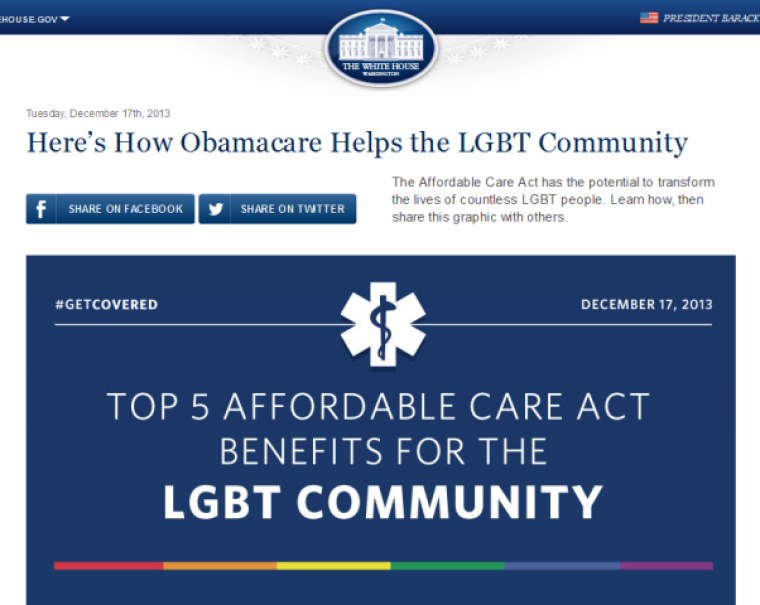 The promotion of Obamacare to the LGBT community is also being done through collaborations with the Sellers Dorsey Foundation, the Center for American Progress (CAP) and the Federal Agencies Project, via an initiative called Out2Enroll, reports The Washington Post.
"According to CAP, 900,000 members of the LGBT community could get some form of subsidized health care under the law."
Thus far, Out2Enroll has already held workshops and town halls in Philadelphia, Pa., New York and Houston, Texas, to train health care navigators, with an emphasis placed on reaching out to potential LGBT enrollees.
The group is also engaging those who identify as LGBT by promoting Obamacare in a Shreveport, La., weekly drag show called Wednesday Night Tea.
"And Out2Enroll is launching a social media campaign this week that will have 'naughty' elements as well as holiday cheer, according to Kellan Baker, associate director of the LGBT Research and Communications Project at CAP," adds the Post.
Other interest groups: Moms and Millennials
An op-ed written by First Lady Michelle Obama was published Wednesday in the parenting magazine Babble. In the column, Obama promotes Obamacare and encourages parents to buy their family's health insurance on the healthcare.gov website.
Obama sent a message out to all of her followers on Twitter Wednesday afternoon linking to her column. "The First Lady, as a mom, on the importance of making sure all our kids #GetCovered."
Here is an excerpt from the op-ed:
"[U]nder the Affordable Care Act, insurance companies can no longer discriminate against people with pre-existing conditions. ... In addition, kids can now stay on their parents' insurance until they're 26 years old. And for families who don't have insurance, you can now go to the Health Insurance Marketplace at healthcare.gov, and you'll find a range of insurance choices all in one place, lined up side-by-side, and explained in easy-to-understand language. You can compare what each plan covers and how much each plan costs ... Millions of people will qualify for lower costs on their monthly premiums — in fact, many currently uninsured people will be able get coverage for less than $100 per person per month," Obama writes.
Also on Wednesday, Joanna Rosholm, the regional communications director for the White House, sent out a tweet noting that the Obamas were meeting with mothers in the Oval Office about how they can promote Obamacare among their social circles and with their family members.
"Today POTUS & @FLOTUS will meet w/ moms from #NC #VA #NJ & #MD in the Oval to talk abt the role moms play to ensure young adults," Rosholm wrote.
Following the meeting, Michelle Obama spoke to the press and said she was encourgaing moms to talk to their friends about signing up for Obamacare, and added that grandparents should also talk to their grandchildren during Christmas dinner about purchasing health care.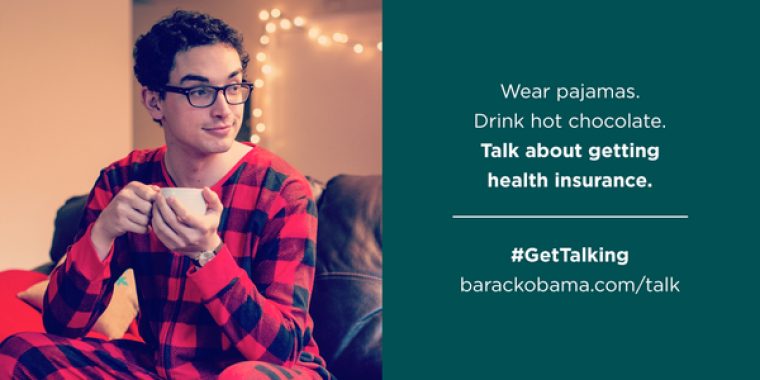 On Tuesday, Organizing for Action, found on Twitter at @BarackObama, launched a series of social media ads aimed at millennials prodding them to spend the holidays "talking about getting health insurance," while drinking hot chocolate and wearing an adult onesie.
This unconvincing attempt to promote Obamacare was showing signs of failure by Wednesday, as people on Twitter and Facebook, as well as commentators on national cable programs started mocking the "Pajama Boy" ad.
Other marketing efforts used to entice young people to buy health insurance on the healthcare.gov website have failed to achieve ourcomes the administration was hoping for. Even celebrities like Lady Gaga and Jennifer Hudson who've been featured in #GetCovered ads have achieved lackluster results.
Last week, Covered California, the states "new health insurance exchange," allocated funds to pay for a video posted on YouTube to further encourage millennials in that state to sign up and pay for health insurance. As of Thursday, the video has been viewed more than 500,000 times.
But, as of Dec. 7, the number of Californians who've enrolled in qualified health plans is only 159,000, according to the Los Angeles Times. The administration's goal in that state was to have 1,300,000 people signed up. Thus far, the HHS has, in California, achieved 12.2 percent of it's goal.