ISIS' 'Beheading, Raping, Selling' of Christians Is Not Being Stopped by Obama and World Leaders, Justice Group Claims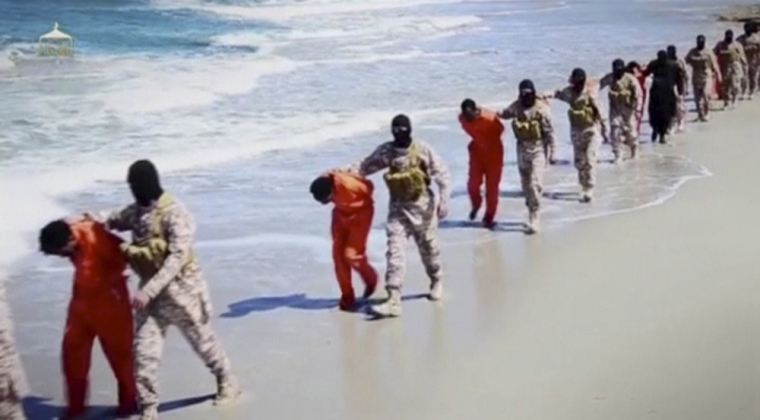 The American Center for Law and Justice has started a new petition urging President Barack Obama to do more to support Christians who are facing increasing brutalities at the hands of the Islamic State terror group. The ACLJ urged Obama to appoint an ambassador to lead a Special Envoy to Promote Religious Freedom of Religious Minorities in the Near East and South Central Asia.
"While Christians and other religious minorities are decimated in that region, the Obama administration leaves this vital position unfilled. This is why the ACLJ has urged them to fill this spot and will continue to do so," the law group said in an article on Thursday, highlighting the various atrocities committed by ISIS.
"We must help our brothers and sisters in Christ and all people who are suffering daily at the hands of pure evil. We cannot stand by and let our fellow human beings be tortured and exterminated."
The petition, which has been signed over 76,000 times, reminds readers that the Islamic terrorists are "beheading, raping, and selling" Christians.
IS has captured significant territory across Iraq and Syria, and for more than a year now has been heavily targeting Christians and other religious minorities.
The U.S. and a broad coalition of Western allies have responded by hitting terror targets in the region with airstrikes and arming local ground troops fighting IS, but that has not seen significant success in halting the advance of the jihadists.
The ACLJ's article on Thursday reminded readers that there have been numerous reports of IS beheading Christian men, forcing women into sexual slavery, and holding hundreds of hostages ransom, forcing families to pay large amounts of money, which then go into funding IS' continued war efforts.
"If this is not the kind of evil that our government is established to stop, then one must ask what is," the law group said. "This evil must be stopped."
Other humanitarian groups, such as the American Mesopotamian Organization, have also warned that IS forces are carrying out a mass ethno-religious slaughter of Assyrian Christians and other minorities.
"Although we appreciated the efforts of the Republic of France for calling an emergency session of the Security Council last March to discuss the ongoing ethnic cleansing of Assyrian Christians, Yezidis and other ethno-religious minorities of Iraq and Syria, no action has yet been taken to halt this ongoing slaughter. It is as if the world community thinks that the situation will resolve itself if it's ignored," AMO Chairman David William Lazar said in July.
CNS News pointed out that although the Near East and South Central Asia Religious Freedom Act, which was signed by Obama into law on Aug. 8, 2014, created the position of the Special Envoy, it currently remains unfilled.
The envoy would be responsible, among other duties, for promoting religious freedom rights for minorities in the Near East and South Central Asia, and recommending appropriate U.S. government responses to violations.