ISIS Being Weakened by Infighting, Says Mideast Expert; Loses Key Stronghold in Iraq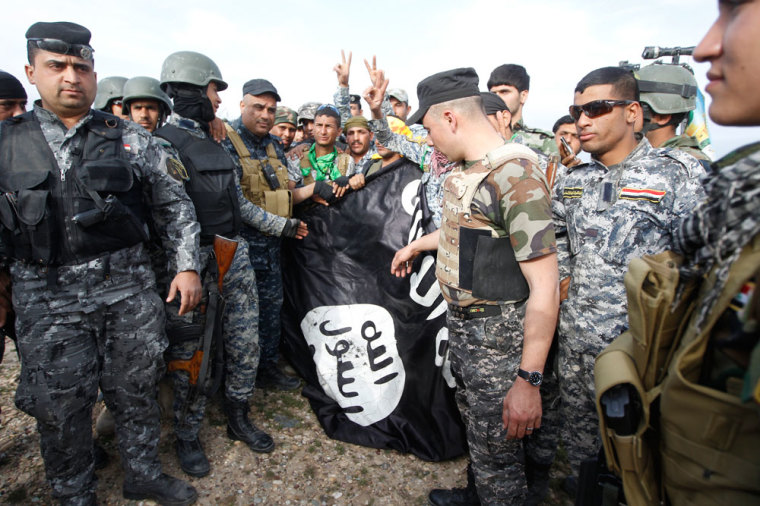 Even as reports suggest that the Islamic State is facing rising tensions between its foreign and local fighters amid growing attacks by local militias, Iraqi forces and pro-government militias in Iraq have re-gained control from the terror group in two key areas near the city of Tikrit.
"The key challenge facing ISIS right now is more internal than external," The Washington Post quotes Lina Khatib, director of the Carnegie Middle East Center in Beirut, as saying. "We're seeing basically a failure of the central tenet of ISIS ideology, which is to unify people of different origins under the caliphate. This is not working on the ground. It is making them less effective in governing and less effective in military operations."
For example, local recruits of ISIS, a Sunni terror group also known as ISIL, are expressing anger over preferential treatment that the expatriates receive in Syria, according to the Post. The salaries and living conditions of the two cannot be compared although it's the local recruits who risk their lives in rural areas.
The two groups have fired at each other in the town of Abu Kamal on Syria's border with Iraq on several occasions.
ISIS is an offshoot of al-Qaeda and wants to establish a caliphate in the Levant region and beyond. It has gained control over large swathes of territories in Syria and Iraq.
However, the U.K.-based Syrian Observatory for Human Rights has recorded about 120 public executions by ISIS of its own members.
While ISIS has not been able to deal with growing infighting, offensives on areas under its control are increasingly being launched by Kurds in northern Syria and northern Iraq as well as by Shiite militias in Iraq.
On Sunday, pro-government Shiite militias in Iraq managed to enter the village of Abu Ajeel, east of Tikrit, and the Dawr area, south of the city – which had been ISIS stronghold for several months.
About 30,000 Iraqi troops and militia fighters were part of the Tikrit offensive.
Meanwhile, 26 ISIS terrorists, including two commanders, were killed in airstrikes in Syria's Hama province during the weekend.
Elsewhere, ISIS has been targeting Christian villages near Tal Tamr to get the corridor to the eastern border to Iraq.
ISIS has attacked numerous villages of Assyrian Christians in recent weeks, and captured hundreds of villagers.
Since last June, when ISIS declared its "caliphate," the terror group has killed roughly 2,000 people, about two-thirds of them civilians, according to the Observatory.