ISIS Chemical Weapons Expert Killed in US Airstrike; Al-Qaeda Grew 'Fourfold in 5 Years,' Former General Says
ISIS Chemical Weapons Expert Killed in US Airstrike; Al-Qaeda Grew 'Fourfold in 5 Years,' Former General Says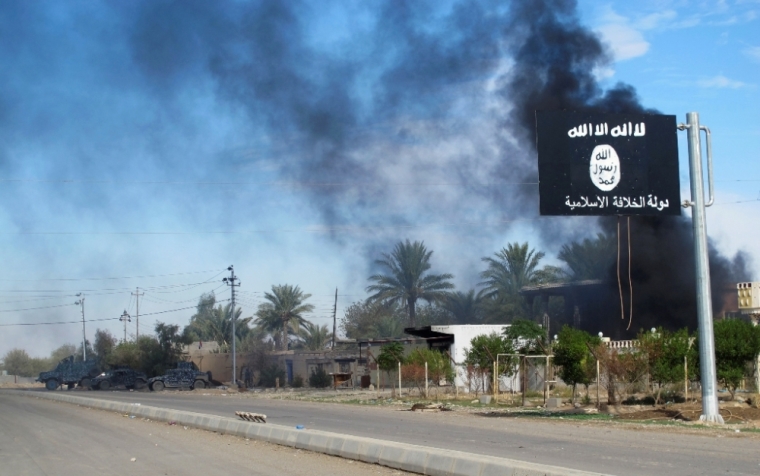 The Islamic State terror group's chemical weapons specialist who once worked for Saddam Hussein has been killed in a U.S.-led airstrike in Iraq, but a former vice chief of staff of the U.S. Army warns that al-Qaeda has "grown fourfold in the last five years."
The suspect, identified as Abu Malik, was reportedly killed in an airstrike near Mosul last Saturday, the US Central Command said Friday, according to Agence France Presse.
Malik was a chemical weapons engineer for Saddam Hussein, but supposedly sided with al-Qaeda after Iraq's invasion and then joined ISIS, or Islamic State of Iraq and Syria which is also known as ISIL.
"His death is expected to temporarily degrade and disrupt the terrorist network and diminish ISIL's ability to potentially produce and use chemical weapons against innocent people," the Command said in a statement.
It is believed that Malik helped ISIS "pursue a chemical weapons capability."
Meanwhile, former U.S. Gen. Jack Keane testified before the new members of the Senate Armed Services Committee that al-Qaeda and its affiliates have now exceeded Iran "in beginning to dominate multiple countries," and said that U.S. policies have failed, according to PJ Media.
"After U.S. troops pulled out of Iraq in 2011, ISIS emerged as a terrorist organization in Iraq, moved into Syria in 2012. Is it possible to look at that map in front of you and claim that the United States policy and strategy is working? Or that al-Qaeda is on the run? It is unmistakable that our policies have failed."
"And the unequivocal explanation is U.S. policy has focused on disengaging from the Middle East, while our stated policy is pivoting to the east," he added. U.S. policymakers, he went on to say, "choose to ignore the very harsh realities of the rise of radical Islam."
"In my view, we became paralyzed by the fear of adverse consequences in the Middle East after fighting two wars," he said. "Moreover, as we sit here this morning, in the face of radical Islam, U.S. policymakers refuse to accurately name the movement as radical Islam. We further choose not to define it, nor explain its ideology, and most critical, we have no comprehensive strategy to stop it or defeat it."
Keane also said that Iran declared the United States as a strategic enemy in 1980 and its goal is to drive the country out of the region, achieve regional hegemony, and destroy the state of Israel. "It [Iran] uses proxies, primarily as the world's number one state sponsoring terrorism. Thirty plus years Iran has used these proxies to attack the United States. To date, the result is U.S. troops left Lebanon, Saudi Arabia, and Iraq, while Iran has direct influence and some control over Beirut, Lebanon, Gaza, Damascus, Syria, Baghdad, Iraq, and now Sana'a, Yemen," the general continued."
ISIS, an al-Qaeda offshoot which seeks to form an Islamic emirate in the Levant region through "jihad," has gained control over large territories in Iraq and Syria.
The Sunni group released a video last week that purported to show the killing of Haruna Yukawa, one of the two Japanese hostages, in Syria after Tokyo failed to pay a ransom. The terror group is now demanding the release of Sajida al Rashawi, an Iraqi woman jailed in Jordan for her role in a bombing, in exchange for Kenji Goto, the other Japanese captive.
ISIS has released videos showing the beheading of five Western hostages since August – of British hostages David Haines and Alan Henning, and U.S. citizens James Foley, Steven Sotloff and Abdul-Rahman Kassig.