ISIS Claims to Have Beheaded American Peter Kassig; Masked Man in Videos Reportedly Wounded in US Airstrikes
ISIS Claims to Have Beheaded American Peter Kassig; Masked Man in Videos Reportedly Wounded in US Airstrikes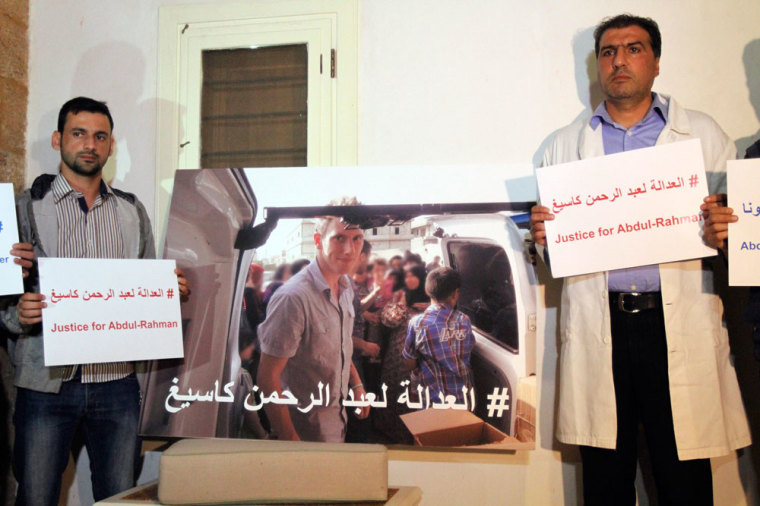 ISIS released a video Sunday of the beheading of who it claims is 26-year-old American aid worker Peter Kassig. The video was after the beheading and it is unclear through the video if the body is that of Kassig or not.
While still authenticating the video, the White House and British Prime Minister David Cameron have quickly responded with statements condemning the gruesome murder.
"The intelligence community is working as quickly as possible to determine (the video's) authenticity. If confirmed, we are appalled by the brutal murder of an innocent American aid worker and we express our deepest condolences to his family and friends," said National Security Council spokeswoman Bernadette Meehan.
Meanwhile, Cameron tweeted, "I'm horrified by the cold blooded murder of Abdul-Rahman Kassig. ISIL have again shown their depravity. My thoughts are with his family."
Kassig had reportedly converted to Islam during his captivity and took on the name of Abdul Rahman Kassig. His family had appeal to ISIS, also known as the Islamic State of ISIL, in an earlier video where his mother explained that she was intentionally releasing the video on Islam's Eid al-Adah, Festival of Sacrifice, which honors Abraham's willingness to sacrifice his son, Isaac, by instead sacrificing lambs and other livestock and giving them to the poor.
Despite converting to Islam and his parents' appeal to ISIS while showing deference to Islam, the terrorist group has apparently beheaded the young aid worker nonetheless. Kassig was delivering food and medical supplies to those affected by the Syrian conflict when he was captured.
Prior to news about Kassig's beheading, media outlets were reporting that the masked man who appeared in the Islamic State videos showing beheading of U.S. journalists and British aid workers has reportedly been injured in a U.S.-led airstrike on an Iraqi town close to the Syrian border, and Britain is investigating the reports.
Known as "Jihadi John" in the media in the U.K., the British national, accused of killing U.S. journalists James Foley and Steven Sotloff and British aid workers David Haines and Alan Henning, has apparently received injuries in an attack on a summit of ISIS leaders in the town of Qaim in Iraq's western Anbar province, Britain's Mail on Sunday reports.
The U.K. Foreign Office has confirmed to the media that it has received similar reports but has stated that those reports are yet to be confirmed.
A nurse who treated injured ISIS men said the list of wounded included a man named Jalman, who is "the one who slaughtered the journalists," according to the Mail, which also reported that the injured ISIS fighters were later taken to the terror group's Syrian stronghold of Raqqa.
Jihadi John, who was no named after Beatle John Lennon due to his British background, was reportedly injured in the same attack that also supposedly wounded ISIS leader Abu Bakr al-Baghdadi.
The Telegraph had earlier reported that Auf Abdulrahman Elefery, a "very close companion" of al-Baghdadi and also known as Abu Suja, was killed along with several other members of the ISIS when planes struck the group's convoy in that attack late last Friday.
Baghdadi was supposedly an Islamic preacher at the time of the 2003 U.S. invasion of Iraq. He later became a militant and was briefly detained by American forces at Camp Bucca, according to U.S. Defense Department officials.
Baghdadi, who is in his early 40s and has a $10 million U.S. bounty on his head, then allegedly met and received training from al-Qaeda operatives, and later became the leader of the ISIS.
The U.S.-led coalition has been conducting airstrikes on ISIS positions in Iraq and Syria since August.
The ISIS, an al-Qaeda offshoot also known as ISIL, now controls large parts of territories in Iraq and Syria, and seeks to form an Islamic emirate in the Levant region through "jihad."
The ISIS is seen as the most brutal jihadist terror group. Its men have killed hundreds of civilians in Iraq and Syria. Numerous members of the Christian and Yazidi minorities have also been killed in Iraq, and tens of thousands of them have fled their homes.