ISIS Crucifies 2 Alleged Spies, Films Video as 'First-Person Shooter Games'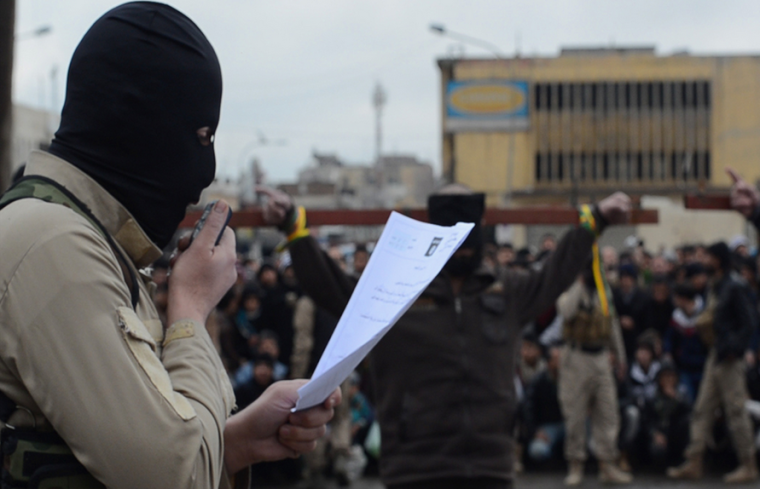 The Islamic State terror group has crucified two men it accused of being spies in a video posted online, which some observers said was "shockingly similar" to first-person-shooter video games because of the style.
The Express reported that the public execution was filmed at IS' headquarters in Raqqa, Syria, and depicted two men dressed in orange jumpsuits being strapped to makeshift crosses. The Islamic gunmen film the footage from cameras seemingly strapped to their chest, giving the video a shooter-game look.
"The killing is captured first-hand by the camera mounted on the extremist's chest, a shocking similarity to popular video games," the report noted.
The alleged spies are then shot on their respective crosses before a large crowd of people, with women and children watching.
The so-called 'Harvest of the Spies' video also depicts IS officials reading out the charges against the men, claiming that they had spied on the extremist group and had been working for forces trying to bring down the Caliphate.
A large piece of paper with the Arabic word for "crime" is hung on one of them men after they are killed.
The terror group, which holds large territory across Iraq and Syria, has carried out crucifixions on a number of occasions as a form of capital punishment. Beside people it claims were spies, the radicals have also crucified Christians, such as a group of 11 indigenous Christian missionaries who were killed in April 2015 for refusing to deny their faith in Christ.
"All were badly brutalized and then crucified," a ministry leader who had trained all of the workers for the evangelistic ministry revealed. "They were left on their crosses for two days. No one was allowed to remove them."
A 12-year-old boy who was captured alongside the missionaries had his fingertips cut off as his father was forced to watch.
"In front of the team leader and relatives in the crowd, the Islamic extremists cut off the fingertips of the boy and severely beat him, telling his father they would stop the torture only if he, the father, returned to Islam," Christian Aid Mission said at the time.
The jihadists have even crucified children, such as a case in June 2015 when two teenagers were executed for failing to fast during the Islamic holy month of Ramadan.
The Syrian Observatory for Human Rights reported at the time that after they were crucified, the militants again placed large placards around their necks revealing their "crime" to the town of Mayadin, Deir Ezzor province.