ISIS Cuts Fighters' Pay by Half After US-Led Airstrikes Hit Cash Stockpile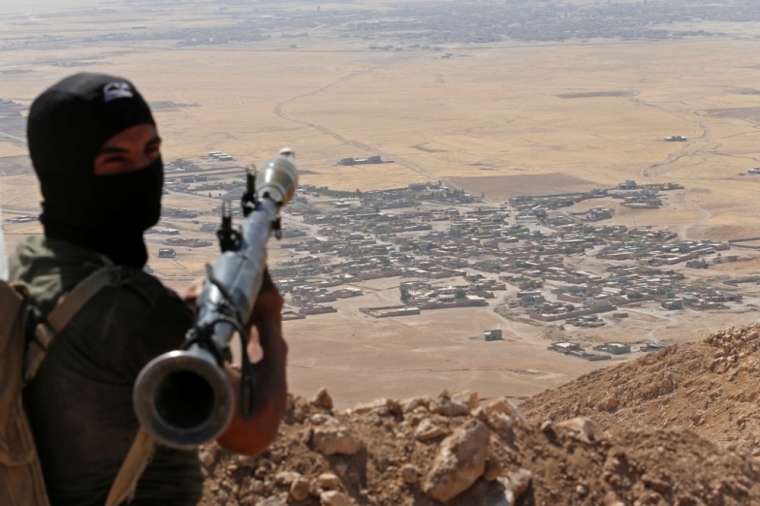 ISIS' leadership has reportedly sent an official letter to militants stating that salaries would be halved due to financial losses associated with U.S.-led coalition airstrikes.
A letter issued to Islamic State fighters from the terrorist group's treasury branch, based in Raqqa, Syria, cites that "exceptional circumstances" have forced leaders of the terrorist organization to cut fighters' salaries by half, according to the the Independent. 
"So on account of the exceptional circumstances the Islamic State is facing, it has been decided to reduce the salaries that are paid to all mujahideen by half, and it is not allowed for anyone to be exempted from this decision, whatever his position," the letter, written by IS Treasury Minister Bayt al-Mal reads, adding, "Let it be known that work will continue to distribute provisions twice every month as usual."
Bayt al-Mal goes on to argue that the terrorist group's actions are justified, citing the Quran's reference to "jihad of soul" over "jihad of wealth."
"Jihad of wealth has been mentioned with jihad of soul in the Quran in 10 cases, and in nine of those cases jihad of wealth has been presented beforehand over jihad of the soul, and only in one case has jihad of the soul been presented beforehand over jihad of wealth," the letter states. "And on the authority of Omar bin al-Khattab (may God be pleased with him): 'The Messenger of God (SAWS) ordered us to give charity and that coincided with the time I had some wealth.'"
According to CNN Money, the militants typically receive $400-$1,200 per month, as well as a stipend for their wives and children.
Several media outlets have also reported that IS was forced to cut back on wages following a series of coalition airstrikes that targeted the terrorist group's revenue stream, including oil sales and areas where money is stored.
A U.S. military spokesperson confirmed in November 2015 that the Obama administration stepped up its attacks on the terrorist group's profit base, targeting over 100 tanks used to transport oil, which IS then sells for profit that numbers in the millions, according to The Wall Street Journal. 
Footage released Saturday by the U.S. Department of Defense shows a fighter jet bombing a large building in Mosul. After the bombing, pieces of paper can be seen flying through the air. The Pentagon has maintained that the paper is cash and the U.S. had successfully targeted one of the terrorist group's major cash storage units in Iraq, the Telegraph reports. 
The terrorist group's recent announcement differs from an end-of-the-year analysis in 2015, in which it claimed to have exceeded a budget of $2 billion in one year alone.
IS claimed at the time that it was also able to offer stipends to orphans and families affected by U.S.-led airstrikes in Syria and Iraq, The Christian Post reported in January 2015.