US Airstrikes Killed 8 Civilians in Syria; 'Sloppy' Russia Accused of Nearly 600 Civilian Casualties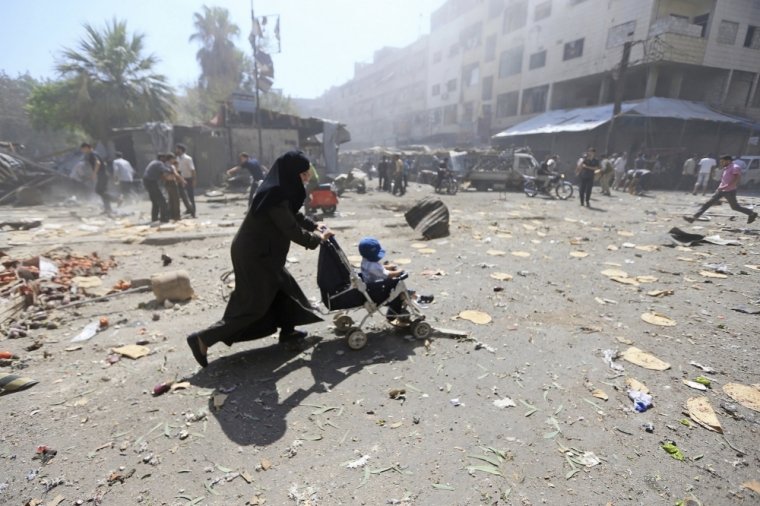 The United States released its record of civilian casualties as a result of its Islamic State airstrike campaign this week, reporting that eight civilians were killed during airstrikes in April to July 2015.
The U.S. military's Central Command announced on Friday that of the 9,627 U.S.-led airstrikes against the Islamic State in Iraq and Syria since 2014, there were eight civilian deaths and three civilian injuries in the airstrikes that took place from April 12 to July 4 in 2015.
These casualties were a result of five separate airstrikes, Central Command reports.
According to CBS News, this brings the total number of civilians killed in the U.S.-led airstrike campaign against the Islamic State to 14 since the campaign began in mid-2014.
A total of five civilians have been injured since the airstrikes began.
As Central Command notes, several of the casualties occurred because civilians entered a target after the U.S. military had released its weapon, as seen in July 2015, when three civilians were mistakenly killed when their vehicle entered a target in Syria after the U.S. had deployed its weapon.
"In all of the cases released today, assessments determined that although the air strikes complied with the law of armed conflict and all appropriate precautions were taken, civilian casualties unfortunately did occur," the Central Command's statement read.
U.S. Army Col. Steve Warren, who serves as a U.S. military spokesperson for Iraq, told the Associated Press in an interview that civilian casualties are unfortunately a part of war.
"We take extraordinary precautions to reduce the possibility of civilian casualties, but unfortunately in war, these things will happen," Warren said. "In the few moments that the weapon is in the air, between aircraft and target, maybe a motorcycle will drive up or a car will drive up or someone will emerge that had previously been unseen and then tragedy happens."
While the United States has reported relatively small civilian casualties, Russia has received criticism for having alarmingly high civilian casualty numbers since it became involved in the Islamic State conflict in 2014.
The Syrian Observatory for Human Rights reported in December that nearly 600 civilians have been killed as a result of Russian-led airstrikes in Syria.
Col. Steve Warren, spokesperson for the U.S.-led coalition based in Baghdad, Iraq, described Russia's airstrikes as "sloppy" in an interview with The Washington Post. 
"This is sloppy military work," Warren said in a November 2015 interview. "This is the reckless and irresponsible, imprecise and frankly uncaring approach to operations in Syria that the Russians have taken on."
Russia has defended its airstrike tactics, with Major Igor Konashenkov arguing that claims of civilian casualties are inflated.  
"I emphasize that the strikes by our air group in Syria on terrorist targets are carried out only after data [on targets] is verified through several channels," he said. 
"Strikes are not carried out in case of risk for lives of civilians [...] our aviation does not even plan airstrikes if there is a possibility of civilian casualties," Konashenkov asserted.