ISIS Drowns 8 Iraqis to Death Inside Metal Cage for Aiding Gov't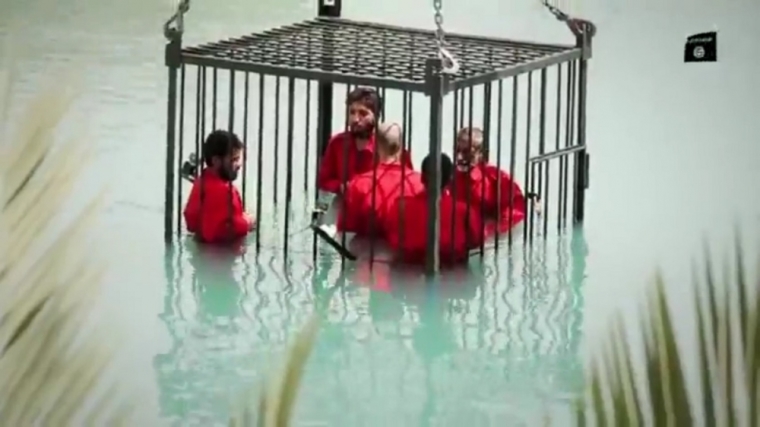 The Islamic State terrorist organization has filmed the caged drowning of eight civilians who were accused of aiding the Iraqi government, along with a new propaganda video showing the ruthless slaughter and execution of men accused of spying for the United States.
An anonymous source who spoke with Iraqi News and lives in Iraq's Nineveh province explained that the brutal terrorist group carried out another one of its heinous drowning executions in its Iraqi stronghold of Mosul.
The eight civilians were chained inside a locked metal cage and submerged into a pool to drown to death.
"Today, ISIS members executed eight civilians by drowning them after putting them inside a metal cage. The execution was carried out in central Mosul," the source said. "The dead civilians were charged of collaborating with the Iraqi government and Peshmerga forces. The eight men were drowned in a local pool."
As IS (also known as ISIS or ISIL) is notorious for filming executions for propaganda purposes and to instill fear, the unnamed source said the recent drowning of the eight civilians was also filmed.
"ISIS filmed the entire execution process after the civilians were sentenced to death by the Sharia Court in Nineveh Province," the source said.
The incident is not the first time that IS militants have executed victims by drowning them inside metal cages.
In June 2015, IS released a video highlighting various ways the group executes those who they deem to have violated their strict brand of Sharia law.
One of the executions shown in the video was the killing of five men in orange jumpsuits who were locked inside a metal cage. The cage was then lowered into a pool by a crane.
Underwater cameras showed the men as they struggled in their last minutes of life with no way to escape.
The news of IS' recent drownings comes as the terror group released another cinematic propaganda video from the Syrian town of Deir ez-Zor on Monday. The video shows militants hanging alleged spies and slaughtering them like livestock.
According to Heavy, the video is titled "The Making of Illusion" and begins by showing a montage of past beheadings of people accused of spying.
Later in the 12-minute video, a large group of men accused of being spies are shown having their necks slit. The men are then hosed off and tied up by their feet and hung upside down to bleed to death. Heavy reports that the men were accused of being U.S. spies.