ISIS Executes 12 Boys Who Fled Jihadi Training Camp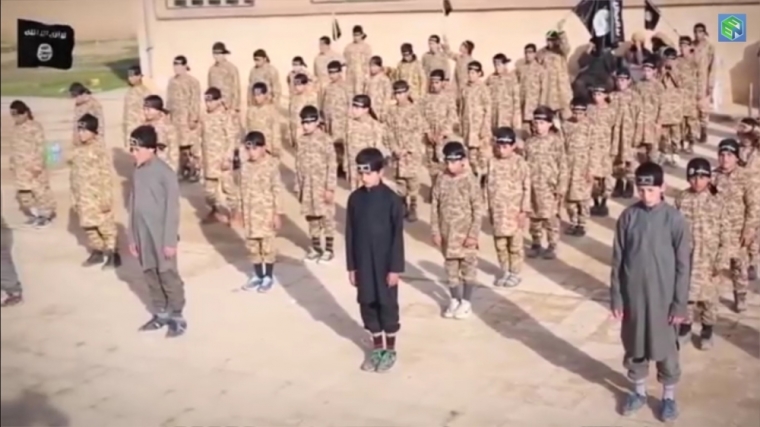 The Islamic State terror group has executed 12 Iraqi children who attempted to flee from a jihadi training camp in the group's Iraqi stronghold of Mosul.
Saeed Mamuzini, the spokesman for the Kurdistan Democratic Party's Mosul branch, told the Kurdish news site Rudaw that the militants killed the boys last Saturday for trying to escape from the town while they were being trained and indoctrinated at IS' Ashti military training camp.
"At least 12 children have been reportedly killed by the IS radicals. The children were receiving training at Ashti military camp in Mosul and they were caught trying to escape," Mamuzini said. "The ages of the executed children are around 12 to 16. They are mostly Arabs from Mosul."
Another media activist in the area, Yousef al-Jubouri, told ARA News, a Kurdish-Syrian news agency, that the children tried to flee because they wanted to avoid being used in suicide missions. He added that they were executed in a wooded area in Mosul.
"The victims have tried to escape the camp in a bid to avoid carrying out suicide operations on behalf of ISIS," al-Jubouri explained.
IS militants force children living in its controlled territory in Iraq and Syria to attend jihadi training camps, which have been established in the IS strongholds of Mosul, Ramadi and Raqqa. In the camps, children are brainwashed with IS' radicalized version of Islam so that they are desensitized to killing in the name of Allah.
After the children are indoctrinated, they then go through extensive and abusive combat and military training.
"These youngsters are subjected to the worst kinds of torture during the brutal training," al-Jubouri asserted. "They have been recruited from all regions of Iraq and Syria."
Al-Jubouri estimates that there are over 4,000 minors being trained in IS military camps. The training sessions last about a month and a half. After training ends, the children are dispersed among suicide bomb units and bomb production workshops.
"Those who do not show unique capabilities during the training are being utilized by IS as human shields during battles," Al-Jubouri said.
Al-Jubouri explained that some of the parents of Syrian children receive monetary compensation from the militant group in exchange for their children participating in the jihadi training.
"In Syria, dozens of minors have been recruited by ISIS in Deir ez-Zor, Raqqa and Aleppo, where their parents receive funds from the group," Al-Jabouri said.
He added that in Iraq, IS has gathered up the children belonging to the al-Tarabsha and al-Bu Nimr tribes and established a training center at the al-Tarabsha headquarters in the al-Furat district.
The militant group has also been known for kidnapping children from their schools and neighborhoods and forcing them to join the jihadi training camps.
In June, a report came out that stated IS had kidnapped over 1,227 youth from various neighborhoods in Mosul and shipped them off to training camps. IS also abducted adults who protested the group's kidnapping of children.
Also in June, IS kidnapped over 400 children from Iraq's Anbar province and another 100 from the Diyala province.
"The boys study at school not to learn, but to become mujahideen," one father from the Iraqi town of Fallujah told The Associated Press.