ISIS Executes 150 Women and Girls, Some Pregnant, for Refusing to Become Sex Slaves and Marry Jihadists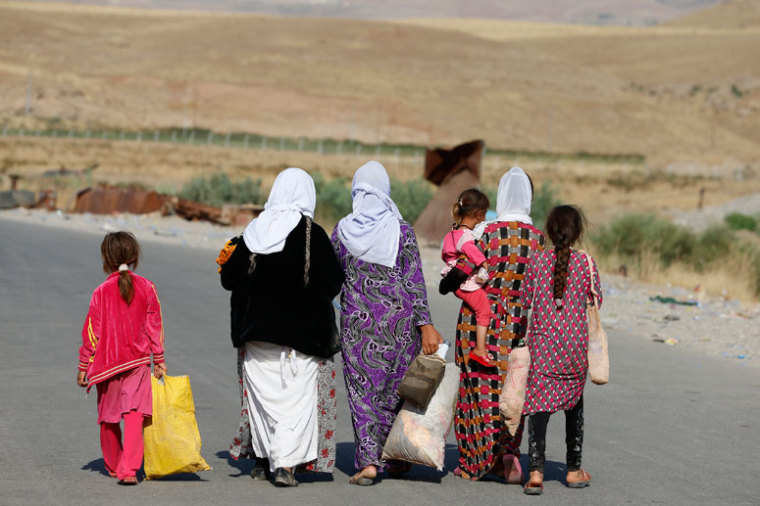 Terror group ISIS has reportedly killed over 150 women and girls, some of them believed to be pregnant, for refusing to become sex slaves and marry jihadists.
The news was reported in a statement by Iraq's Ministry of Human Rights, which has been monitoring the various atrocities committed by the terror group throughout its attacks in Iraq and Syria.
"At least 150 females, including pregnant women, were executed in Fallujah [...] after they refused to accept jihad marriage," the statement said, according to The Independent.
"Many families were also forced to migrate from the province's northern town of Al-Wafa after hundreds of residents received death threats."
Responsibility for the executions is being placed on one ISIS jihadist, known as Abu Anas Al-Libi. The killings occurred in the Iraqi city of Al-Fallujah, according to the Ministry, where the Al-Hadra Al-Muhamadiya mosque was turned into a prison keeping hundreds of men and women.
The terror group is battling the Iraqi and Syrian governments for control over several cities throughout the region.
ISIS, with a mission to implement Islamic rule in the cities it has captured, distributed leaflets last week detailing the rights of its fighters to take women hostage and force them into marriage. The leaflets also apparently authorized militants to force minors under 18 years of age into marriage.
The U.N. and other human rights organizations have accused the Islamic State, as the group is also known, of mass rapes, torture and killings. ISIS has become known for executing kidnapped victims on camera, often in direct messages against the U.S. and other western nations that have opposed its actions.
The jihadists have often targeted children, and reportedly run a number of training camps throughout the region. Children as young as 10 years old have been reported in soldier uniforms being trained how to use assault rifles and kill people.
Earlier in December, the Rev. Canon Andrew White, the Anglican vicar in Baghdad, revealed that four Iraqi Christian children were beheaded by ISIS for refusing to convert to Islam.
"ISIS turned up and they said to the children, 'you say the words that you will follow Muhammad.' The Children, all under 15, four of them, they said, 'no, we love Yasua [Jesus]. We have always loved Yasua. We have always followed Yasua. Yasua has always been with us.'" White said. "[The militants] said, 'say the words!' [The Children] said, 'no, we can't do that.' They chopped all their heads off."