ISIS Executes 250 Syrian Soldiers in Video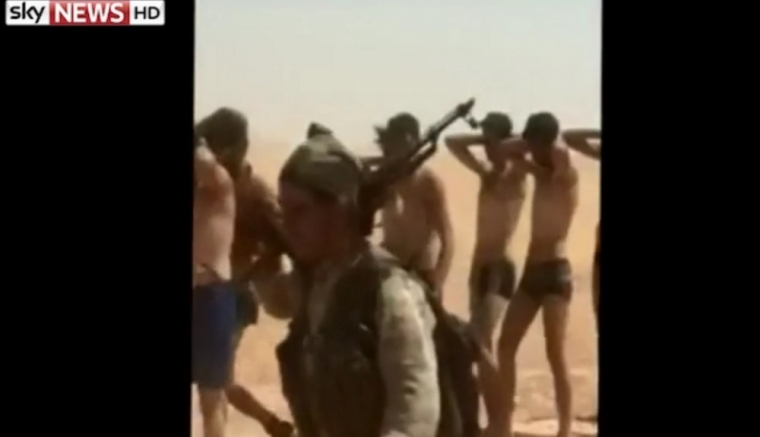 ISIS has released a video showing the apparent mass slaughter of close to 250 Syrian soldiers who had been captured during the weekend when the Islamic militants captured an air base in the province of Raqqa, in northern Syria.
"Yes, we have executed them all," an ISIS fighter states.
The video apparently showed scores of men in their underwear lying face down, with a long line of bodies stretching on the ground, Sky News reported on Thursday.
"The 250 shabeeha taken captive by the Islamic State from Tabqa in Raqqa have been executed," a caption written underneath the video states.
AFP noted that the Islamic State militants, as they are also known, posted clips of the video around the Internet showing off the dead soldiers' bodies.
ISIS has been waging war on both the Iraqi and Syrian central governments, and has captured significant territory in both countries.
Britain-based monitoring group the Syrian Observatory for Human Rights confirmed that ISIS has executed at least 160 soldiers who had been trying to flee the Raqqa region following the government's defeat in battle.
ISIS has been posting videos of its militants committing brutalities as a recruiting tool and as a statement of intent to Western powers.
Last week, the terror group released a video showing the beheading of American journalist James Foley, who had been kidnapped two years earlier in Syria while working for U.S.-based online news outlet GlobalPost.
The video stirred outrage in the U.S., with President Barack Obama condemning ISIS' ideology as "bankrupt" and stating that "no just God" would stand for its violent acts.
"So ISIL speaks for no religion. Their victims are overwhelmingly Muslim, and no faith teaches people to massacre innocents. No just God would stand for what they did yesterday, and for what they do every single day. ISIL has no ideology of any value to human beings," Obama said.
"Their ideology is bankrupt," he continued. "They may claim, out of expediency, that they are at war with the United States or the West, but the fact is they terrorize their neighbors and offer them nothing but an endless slavery to their empty vision, and the collapse of any definition of civilized behavior."
Obama has also called for a coalition of countries prepared to take military action against ISIS.
The president said in another statement: "We are going to work politically and diplomatically with folks in the region, and we're going to cobble together the kind of coalition that we need for a long-term strategy as soon as we are able to fit together the military, political and economic components of that strategy."
The U.S. has been helping Iraq by carrying out airstrikes on ISIS targets in the country and by providing arms and aid, but it has ruled out sending ground troops into the region.
Meanwhile, the U.N's refugee agency has said that there are now more than 3 million Syrian people registered as refugees who have fled the three-year-old civil war between President Bashar al-Assad's forces and Islamic rebels.
The civil war has also led to the deaths of close to 190,000 people, with the U.N. describing Syria as "the biggest humanitarian emergency of our era."