ISIS Fighters Widely Believe Raping Children Is a 'Prayer to God,' Report Finds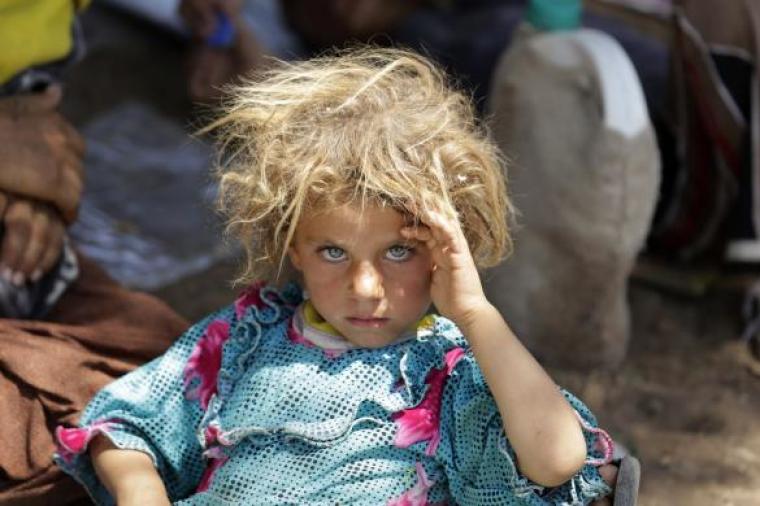 A major report on the systematic raping and sexual slavery practices of Islamic State terror group has shed light on the theological beliefs of the militants, many of whom believe that raping children and young girls is like a "prayer" that draws them closer to God.
The New York Times released a detailed and graphic report on Thursday that featured interviews with 21 women and girls who recently escaped IS captivity in Iraq. The victims, from the Yazidi religious minority group, shared how fighters would pray before raping them, and tried to justify their actions with the Quran, the Islamic holy book.
"He told me that according to Islam he is allowed to rape an unbeliever. He said that by raping me, he is drawing closer to God," one 12-year-old girl said.
IS has heavily targeted both Christians and Yazidis in its conquest of territory in Iraq and Syria, and according to community leaders is still holding captive at least 3,144 Yazidis.
The terror group has published materials giving permission to its fighters to rape children:
"It is permissible to have intercourse with the female slave who hasn't reached puberty, if she is fit for intercourse," an ISIS pamphlet from December reads.
According to the interviews in the NYT report, such permission has been widely used by the jihadists.
A 15-year-old girl, identified only by the initial F, shared of her experience being sold to an IS fighter:
"Every time that he came to rape me, he would pray," the girl said.
"He said that raping me is his prayer to God. I said to him, 'What you're doing to me is wrong, and it will not bring you closer to God.' And he said, 'No, it's allowed. It's halal,'" she added.
The report goes on to reveal several other graphic instances of rape, with IS fighters repeatedly arguing that "God is pleased" with the rape of slaves.
The only women who were reportedly spared the ordeal were those who were pregnant when they were captured.
Previous reports, such as one by The Research and Fatawa Islamic Law Department of the Islamic State in December, have also exposed the militants' sex slave practices.
Another pamphlet from IS leadership stated:
"Unbelieving [women] who were captured and brought into the abode of Islam are permissible to us, after the Imam distributes them [among us]," it said.
"It is permissible to have sexual intercourse with the female captive. Allah the almighty said: '[Successful are the believers] who guard their chastity, except from their wives or [the captives and slaves] that their right hands possess, for then they are free from blame [Quran 23:5-6].'"
Back in July, Duke University's Islamic Studies Center director condemned the violent attacks IS has been carrying out, and argued that they "shock the decency" of Muslims around the world.
Omid Safi told The Christian Post that IS has shown that it "abides neither by the letter nor by the spirit of Islamic teachings," and continues practicing its extremist version of the Quran despite the condemnation of Islamic leaders worldwide.