ISIS Has Massacred 322 People From Sunni Tribe; Leader Says Iraqi Gov't Abandoned Them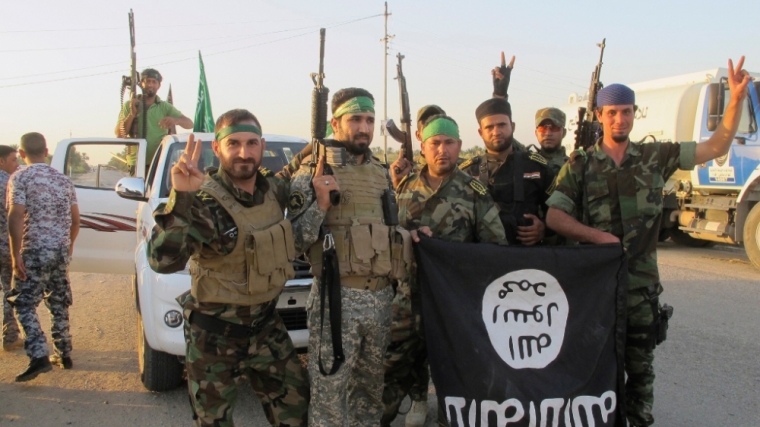 An Iraqi tribal leader revealed that at least 322 members of a single Sunni tribe have been killed at the hands of terror group ISIS in the western Anbar province. The tribe's senior leader has blamed the government for abandoning the people to the jihadists.
"The government abandoned us and gave us to ISIS on a platter," Sheikh Naeem Al Gaoud of the Albu Nimr tribe told BBC News on Sunday. "We asked them many times for weapons but they gave us only promises."
Iraq's Ministry of Human Rights confirmed that 322 people in total have been killed, following news that ISIS militants shot dead 50 men and women from the tribe on Friday night into Saturday morning. Another 65 people are said to have been kidnapped.
ISIS, or the Islamic State as the group is also known, has accused the tribesmen and women of retaliating for being displaced from their homes.
The Islamic militants have targeted religious and ethnic minorities during their conquest of large amounts of territory in Iraq and Syria, while at the same time they have sought to unite jihadists from various countries around the world who are flooding in to join them.
A U.N. report last week warned that there are close to 15,000 jihadists from 80 different countries who are taking up arms for ISIS and its mission to establish an Islamic caliphate.
Albu Nimr leaders said that ISIS has carried out mass killings of their tribe on an almost daily basis. The latest victims included at least 10 women and children, who were lined up and publicly shot in the village of Ras al-Maa, north of the provincial capital Ramadi.
Al Gaoud told CNN that the kidnapped people are likely to have been killed. The senior leader said that the tribe, which numbers in the tens of thousands, has been planning on recapturing the town of Hit and the neighboring Ramadi, which ISIS had taken over and established holdouts. The Albu Nimr tribesmen said that they fought against the Islamic militants until they ran out of weapons and supplies.
American Gen. Martin Dempsey, the Joint Chiefs of Staff chairman, said that it will be necessary for Iraq to support Sunni tribesmen who are fighting back against ISIS. Dempsey said at a news conference last week that the Iraqi government had not yet asked the U.S. for military support to defend the Sunni tribe.
"That's why we need to expand the train-advise-and-assist mission into the ... Anbar Province," Dempsey said. "But the precondition for that is that the government of Iraq is willing to arm the tribes."
The American government has strongly condemned the latest killings of the Albu Nimr tribe people. It has lead a coalition of countries that have launched airstrikes against ISIS targets in Iraq and Syria, but has not sent ground troops into the region.
"We are deeply concerned by reports of mass executions of Sunni tribesmen in Anbar province by ISIL and strongly condemn the brutal actions that ISIL continues to perpetrate against the Iraqi people," State Department spokeswoman Jen Psaki said.
"...ISIL's indiscriminate crimes prove, yet again, that it is targeting all Iraqis, regardless of faith or region."