ISIS-Inspired Terror Suspect Shot Dead in Boston Planned to Decapitate Police Officers and 'Draw Muhammad' Activist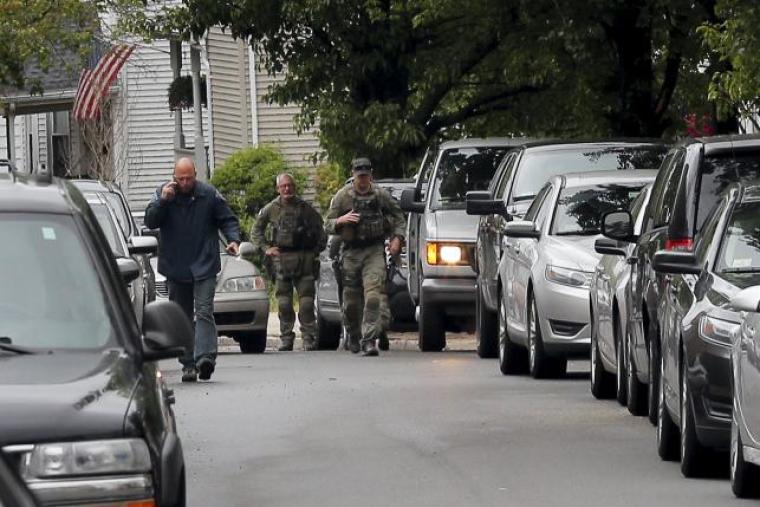 A terror suspect shot dead in Boston on Tuesday was apparently planning on decapitating police officers and the activist behind the "draw Muhammad" contest in Texas, which was attacked by gunmen in May, reports have said.
Police reports on Wednesday revealed that 26-year-old Usaama Rahim had plotted an attack for at least a week, and had recently bought three fighting knives and a sharpener.
"I'm just going to go after them, those boys in blue. 'Cause it's the easiest target and the most common is the easiest for me," Rahim told alleged co-conspirator David Wright in a phone call Tuesday.
"I just got myself a nice little tool ... it's good for carving wood and like, you know, carving sculptures," he added.
The conversation took place only hours before he was confronted and shot dead by police after he refused to drop one of the knives, according to the New York Post.
Investigators said Rahim and Wright also made references to beheadings carried out by terror group ISIS. The jihadists have executed dozens of westerners, including Americans, in their propaganda videos filmed throughout Iraq, Syria, and other places in the region.
The suspect is believed to have also been targeting Pamela Geller, the activist and blogger behind May's cartoon contest for images of the Muslim prophet Muhammad in Garland, Texas.
The contest was interrupted last month when two gunmen opened fire at the "Muhammad Art Exhibit and Cartoon Contest," wounding an off-duty police offer before being shot down by police.
ISIS claimed responsibility for the shooting, and warned American Christians that more attacks on U.S. soil are to follow.
"We say to the defenders of the cross, the U.S., that future attacks are going to be harsher and worse. The Islamic State soldiers will inflict harm on you with the grace of God. The future is just around the corner," the terror group said in a message at the time.
Geller, who is also the president of the American Freedom Defense Initiative, said she believes terror suspects will keep coming after her and others deemed anti-Islamic.
"They targeted me for violating Shariah laws," she said. "It won't end for me or the cops. They mean to kill everyone who doesn't do their bidding."
Wright, who police said is related to Rahim, is being held on a charge of conspiracy to obstruct a federal investigation, Fox News noted.
A nationwide survey conducted by Fox in May less than two weeks after the Texas attack showed that six in 10 Americans, or 60 percent of respondents, believe that terrorists are living in their hometown.
Despite the high level of concern, most Americans, or 65 percent, said that they are somewhat or very confident that intelligence agencies will be able to uncover real terror threats in time to prevent attacks.