ISIS Issues 11 Commandments for Christians to Obey If They Want to Live in Their Ancestral Homeland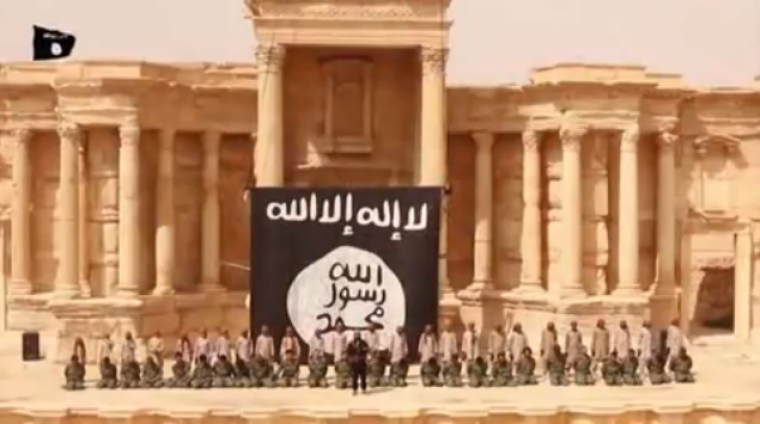 The Islamic State terror group has issued a "safety contract" that Christians living in the captured Syrian town of Qaryatian must follow, which includes 11 specific commandments, if they want to live.
"The meeting showed images of a lot of Christians abducted from the city of al-Quaryatayn, in what is believed to be a cultural center. It also stipulated 13 items to give security to the Christians in the city, "Jamil Diarbakerli, director of the Assyrian Monitor for Human Rights, told International Christian Concern.
The Syrian Observatory for Human Rights noted that Christians in the captured town will have to pay the jizyah or jizya tax imposed on non-Muslims, in addition to the other commandments issued by IS leader Abu Bakr al-Baghdadi.
The watchdog group listed the 11 stipulations, which prohibit: the establishment of churches, the displaying of crosses, making Muslims hear Christian prayers or rituals of worship, the hiding of spies, offending Islamic religious beliefs, the carrying of weapons, the sale of pork or wine to Muslims, and failing to dress modestly.
Nahren Anweya, an Assyrian-American activist, said that the terror group, which has captured cities and towns across Iraq and Syria, is seeking to suppress any Christian presence in the region.
"Our entire ancestral homelands have been completely taken and now they won't even allow us to sustain our religious faith in one God and his son Jesus Christ, " Anweya told the International Business Times.
"We have been purged out of Mosul, Nineveh, Khabour, Hassaka, Qaryatian and many more ancestral Assyrian homelands. They took our native homelands, our girls, our churches and now they want the few lives we have left."
ICC noted that there are an estimated 250 Syriac Orthodox Christians remaining in al Quaryatayn.
The jihadist group has issued similar contracts to Christians in other cities it has captured, such as the Raqqa, though believers who have managed to escape say that there are no more Christians there.
"The release of this agreement once again highlights the intents of the jihadists of IS to create a society in which only those who follow their strict interpretation of Islam have any sense of freedom. These restrictions nearly eliminate the presence of Christianity in this region," said Todd Daniels, Middle East regional manger for ICC.
"The campaign by IS extremists to establish their Islamic State and to drive out Christianity from Syria continues to amplify suffering and has caused the displacement of hundreds of thousands of Christians and more than 12 million Syrians. There will be no stable and lasting peace in Syria until citizens from all faiths are able to live together with all rights protected."
Earlier this week, a senior Catholic leader in Syria issued a call for Syrian Christians to stay in the war-torn country despite the ongoing violence and persecution they face, warning that Christianity is disappearing from the region.
"Despite all your suffering, stay! Be patient! Don't emigrate! Stay for the Church, your homeland, for Syria and its future! Stay! Do stay," Melkite Greek Catholic Patriarch Gregorios III said in an open letter.
Reports have said that almost half of all Christian Syrians, or 450,000 people, have been internally displaced or are living abroad as refugees since 2011.