ISIS Kills 2 Syrian Activists in Turkey: 'Every Apostate Will Be Slaughtered Silently'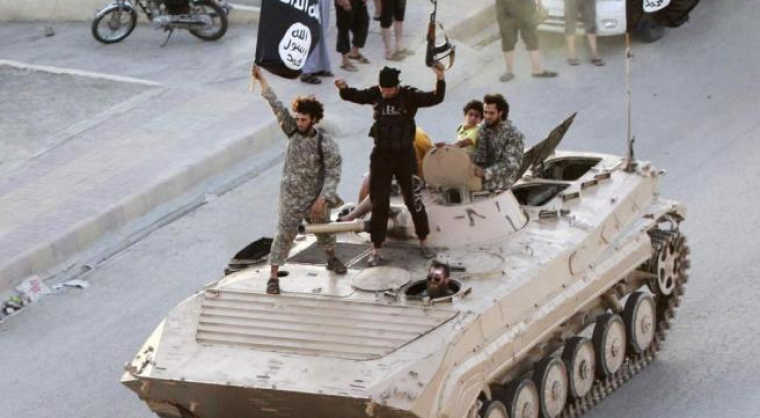 The Islamic State terror group has claimed responsibility for the heinous murders of two Syrian activists in Turkey. Both men had ties to a prominent anti-IS website that reports on the militants' activities from inside Raqqa, Syria.
IS posted a video online Sunday stating that it "slaughtered" and beheaded 20-year-old Ibrahim Abdul Qader and Fares Hamadi in the Turkish town of Sanliurfa, which is about 35 miles from the Syrian border.
Qader had reported on IS' brutality from inside the group's de-facto capital as a leading member of a website called Raqqa is Being Slaughtered Silently, which is often cited by Western media. Hamadi, who is believed to also be in his 20s, had no official role with RBSS but is from Raqqa and also had ties to the monitoring group.
Both men were found at Hamadi's home in Sanliurfa last Friday morning by another friend.
According to AFP, IS' video, which featured ameture footage showing Hamadi's slit throat but did not show Qader's body, explained that the two men were executed because "they conspired with the crusaders against ISIS."
"May every apostate know that he will be slaughtered silently," the video states, making a play on words with RBSS' title.
According to the Huffington Post, RBSS has 18 members working for the organization inside Raqqa who monitor daily life from inside the caliphate and report on brutal and unjust occurrences to other RBSS members located outside of Syria, such as Qader, who then write and publish reports, post to social media and talk to media.
The Islamic State has murdered at least one other RBSS activist inside Syria, but the assassination of Qader marks the first time that a member of the organization was killed by IS outside of the Syrian border.
Even before IS issued a video claiming responsibility for the assassinations, other RBSS members knew exactly who was responsible for killing their friends and colleagues, as members wasted no time in accusing IS after the bodies were discovered.
"In the morning, somebody, we don't know who exactly, but he was from ISIS — entered their apartment and shot them in the head," Raqqa-based RBSS member Abu Ibrahim al-Raqqawi told The Daily Beast. "Then he beheaded them. There was a third friend who was coming to the apartment. He found their bodies. He was shocked."
"They were very brave people," al-Raqqawi continued. "The bravest people I ever met. They were filming in the very sensitive places, filming ISIS in battle, covering the barrel bombs. Every time there was an airstrike in the city, they were the first guys to go and film."
RBSS member Hamoud al-Mousa, who lives in Turkey, told Al Jzeera [Qatari goverment run media] that the members thought their lives would be in less danger in Turkey than in the heart of the caliphate.
"We all thought Turkey would be safer, but apparently not," al-Mousa admitted. "Unfortunately, none of us are safe here."
As concerns continue to be raised that NATO member Turkey is not doing its part to crack down on IS cells inside its own borders, it certainly doesn't help that Turkey's 500-mile border with Syria is very porous and easily allows aspiring jihadis to crossover and join the terrorist group.
After the men were murdered, IS supporters on Twitter mocked the slain activists for thinking their lives were safe outside of Syria.
"They thought that in Turkey they were safe and isolated from the knives of the caliphate," Huffington Post translated one IS supporter's tweet as stating in Arabic. "They have lost and are disappointed, for whoever maligns against the caliphate shall have their blood spilled."
Despite the security concerns, RBSS will not be dissuaded from continuing to monitor IS' activities.