ISIS Loses Fallujah to Iraqi Forces; Mosul Declared as Next Battle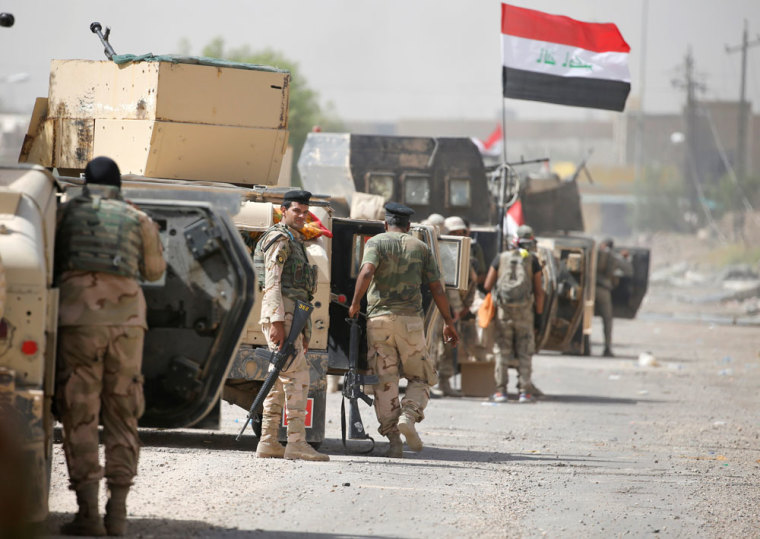 After weeks of fighting, Iraqi special forces backed by multiple airstrikes from a U.S.-led coalition on Friday recaptured the government headquarters and most other parts in the city of Fallujah from the Islamic State terror group, which has held the city since January 2014.
Iraq's Prime Minister Haider al-Abadi said the government forces have retaken most of Fallujah from Islamic State, also known as ISIS or ISIL or Daesh, as they continue to flush out terrorists from other parts in the city, according to Al Jazeera.
"We promised you the liberation of Fallujah and we retook it. Our security forces control the city except for small pockets that need to be cleared within the coming hours," al-Abadi said in a brief address on state TV. "Fallujah has returned to the nation and Mosul is the next battle," he wrote on Twitter. "Daesh will be defeated."
Iraq's police under the interior ministry raised the country's flag above the government headquarters, the military announced Friday, according to Reuters.
"There is still some fighting to be done" before Iraqi forces recapture all of the city, U.S. Defense Secretary Ash Carter said, adding that the U.S. military supported the Iraqi forces with advice and air support, according to Fox News.
Heavily armed police units are advancing along Baghdad Street, which runs through the city, and commandos from the counter-terrorism service have surrounded Fallujah hospital, the military statement said.
Fallujah, 40 miles west of Baghdad, was the first city seized by IS two and a half years ago. The United Nations estimates that about 42,000 residents have fled the city since the military operation began in late May.
The Norwegian Refugee Council, which has been providing aid to displaced people, said escapees reported a sudden retreat of IS fighters at key checkpoints inside Fallujah, which helped civilians to leave en mass. "Aid services in the camps were already overstretched and this development will push us all to the limit," NRC country director Nasr Muflahi was quoted as saying.
Iraqi forces' victory "is important in terms of Iraqi politics—Fallujah was seen as a car bomb factory for Baghdad," Douglas Ollivant, a former U.S. Army Cavlary officer and White House aide in charge of Iraq, told TIME magazine. "And I'm not on the ground there so I can't see what's happening, but it appears to be falling a heck of a lot faster than any of us anticipated. So maybe this mass strategy of encircling ISIS and making them fight on four different fronts may be working."
IS still has 18,000 to 22,000 fighters in Syria and Iraq despite some 13,000 airstrikes, CIA director John Brennan told Congress Thursday, warning that loss of territory could lead the Sunni group to plan terror strikes abroad.
IS has lost about half of the territory it seized when Iraqi forces partially collapsed in 2014, according to U.S. estimates.
"There are other places around the world to which ISIL has spread and then we have to protect our own homeland as well," Brennan said.
Carter explained that the three-part strategy to fight IS includes defeating the group in Iraq and Syria. The group's defeat is "necessary but not sufficient."
The Orlando gunman, Omar Mir Seddique Mateen, swore allegiance to IS minutes before he carried out the deadliest mass shooting in recent U.S. history, killing 49 people and injuring dozens others at a gay nightclub.
IS is an offshoot of al-Qaeda and wants to establish a caliphate in the Levant region and beyond. Christians and other minorities are among its main targets.