ISIS Sex Slave Survivor Who Revealed Shocking Horrors of Genocide Receives Human Rights Award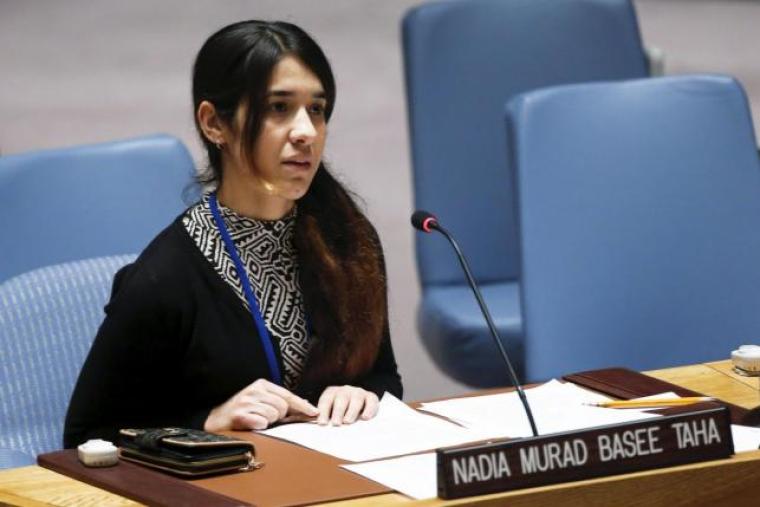 Nadia Murad, a young Yazidi woman whose family was massacred by the Islamic State terror group while she was kept as a sex slave before she managed to escape and later testify before the U.N. about the genocide of religious minorities in Iraq and Syria, has been awarded the prestigious Vaclav Havel Human Rights Prize in Strasbourg on Monday.
The Independent reported that Murad, 23, who was initially captured by IS in 2014 and subjected to severe sexual and physical abuse, has been speaking out on the plight of minorities ever since, urging world leaders to do more to protect persecuted people.
The Havel Award, named after a former Czech president, honors outstanding action in defense of human rights, and carries with it a $66,000 prize.
Murad used the opportunity to urge for a special court to be appointed to judge the human rights abuses carried out by the Islamic extremists.
"The free world is not reacting," Murad said in her speech.
Murad made headline news around the world earlier this year when she revealed some of the practices of IS jihadists, such as children as young as 9 being taken away from their parents and sold for sex.
Murad said back in February that some of the things IS radicals are making women go through are "more difficult than death."
"A year and a half has passed and the genocide against the Yazidis is continuous. We die every day because we see the world silent in the face of our plight," she said at the time.
"My mother saw them killing my brothers and then they took my mother and killed her. I was already orphaned as I didn't have a father, all I had in the war was my mother," she recalled, noting that at least 18 of her extended family members have been either killed or enslaved by the terror group.
Christians have been among the thousands of women and children captured and used as sex slaves by the terrorists, though a number have also managed to escape and share their tales of horror with the world.
Murad was gang-raped by six militants after her fist attempt to escape, however, but after three months of sexual abuse she managed to flee to Germany.
In her speech on Monday, the Yazidi human rights activist said that she hopes the attention is focused on the many women and children who are still suffering in IS captivity.
"I would like to dedicate this award to all women throughout the world who are persecuted and the thousands of Yazidi women and children who have been living in the hell of Daesh (Islamic State) for two years now," she said through an interpreter, as reported by Reuters.
She also said that she hopes her story inspires the 2,000 Yazidi women who are trying to start a new life after escaping IS.
"This will give me renewed strength to continue moving forward to fight against extremism in all its manifestations," Murad added.