ISIS Suicide Bombers Kill Dozens in Iraq; Kurdish Fighters Halt Militants' Advance in Kobani in Syria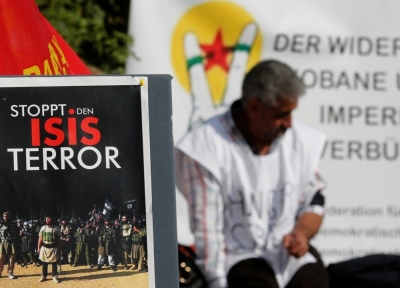 At least 58 people were killed in three suicide bombings allegedly carried out by foreign recruits of ISIS in Iraq's Diyala province Sunday, even as Kurdish fighters in Syria were reportedly able to stop the advance of Islamic State militants in the border town of Kobani.
The bombings took place in the Qara Tappah district of Iraq's Diyala province, according to The Associated Press.
A suicide bomber blew himself up at the gateway to a security compound, which is also the office of a main Kurdish political party, while two other suicide bombers detonated cars filled with explosives into the compound just minutes later.
ISIS claimed responsibility for the attack in an online statement, saying the bombers were three foreign jihadists.
According to CIA, ISIS has about 31,500 fighters across Iraq and Syria. It is believed to have hundreds of foreign fighters, including those from the United States and Europe.
The bombings in Iraq come the day after at least 45 people were killed in similar attacks in and around the capital city of Baghdad.
While three car bombs killed at least 34 people in Shi'ite neighborhoods in west Baghdad Saturday evening, a suicide bomber killed 11 in Kadhimiya and two bombs killed 23 in the Shaoula neighborhood. Another suicide bomber killed 11 in a market 17 miles north of Baghdad.
ISIS militants, who are reported to have MANPAD anti-aircraft missiles which are capable of shooting down airplanes within a range of 15,000 feet, have advanced to Abu Ghraib, about 8 miles from Baghdad's international airport, according to reports.
Elsewhere in Iraq, ISIS men have killed hundreds of civilians. Numerous members of the Christian and Yazidi minorities have also been killed, and tens of thousands of them have fled their homes.
Meanwhile, the Syrian Observatory for Human Rights said ISIS has not been able to advance in the Syrian town of Kobani since Friday.
The Britain-based group's head, Rami Abdurrahman, was quoted as saying that ISIS seems to have run out of enough fighters and has therefore deployed members of its religious police known as the Hisbah to fight.
Fox News quoted a source as saying that ISIS's inability to advance further can be attributed to an intensified wave of airstrikes by a U.S.-led coalition in Kobani.
ISIS, an al-Qaeda offshoot and also known as ISIL, has taken over more than 350 villages around Kobani, and over 150,000 people from the region have fled to Turkey.
A U.N. envoy warned Friday that thousands of people could be killed if Kobani is captured by ISIS. "If this falls, the 700, plus perhaps the 12,000 people, apart from the fighters, will be most likely massacred," U.N. envoy Staffan de Mistura said.
ISIS, also known as ISIL, has gained control of large swathes of territories in Iraq and Syria. It wants to form an Islamic emirate in the Levant region through "jihad."
ISIS has released videos showing the beheading of British aid workers Alan Henning and David Haines, and U.S. journalists James Foley and Steven Sotloff.