ISIS Targets Macy's Thanksgiving Day Parade as Site for Lone-Wolf Attack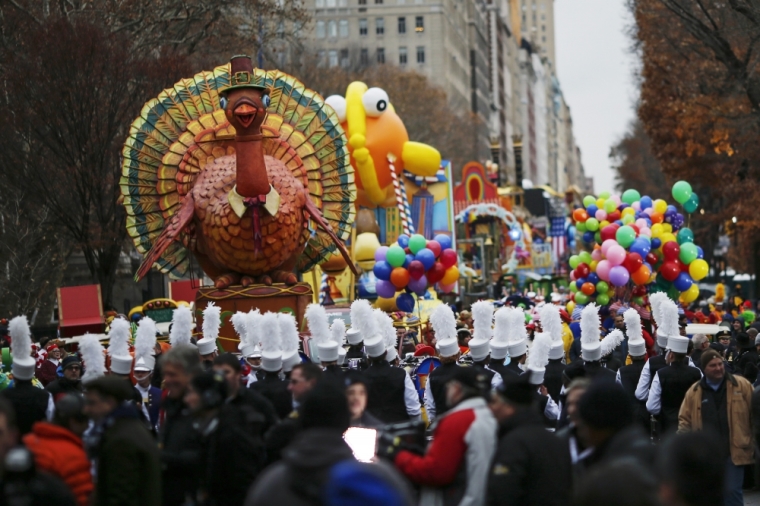 The Islamic State terrorist organization is calling on its supporters in the West to kill masses of people at public events, and included a photo of the annual Macy's Thanksgiving Day Parade in New York City in its propaganda magazine as "an excellent target."
According to Site Intelligence Group, IS published an article in its new English-language magazine, Rumiyah, that teaches jihadists who live outside of the caliphate in Iraq and Syria how to use a "multitude of weapons and techniques ... to inflict misery and destruction upon the enemies of Allah" in "every hardheaded, obstinate kafir nation that wishes to engage in war on the Islamic State."
3) "Just Terror Tactics" section praises #Nice vehicular attack, suggests markets, rallies, & specifically Macy's Thanksgiving Day Parade pic.twitter.com/15rKo9b9Zl

— Rita Katz (@Rita_Katz) November 11, 2016
The article, titled "Just Terror Tactics," says that before planning lone-wolf attacks, it's important to "define the objective."
"One's attack may be to harvest a large kill count. It may be aimed at disrupting the financial stability of a specific nation. It may simply be aimed at terrorizing the enemies of Allah and depriving them of a peaceful sleep," the article states. "Accordingly, as the objective of the attack varies, the mujahid must choose a method that best suits the operation at hand."
The article goes on to tell lone-wolf jihadists that vehicles are an underestimated weapon because many people don't view them as dangerous since they are used daily as a primary mode of transportation.
According to the article, "very few actually comprehend the deadly and destructive capability of the motor vehicle and its capacity of reaping large numbers of casualties if used in a premeditated manner."
IS urges jihadists to carry out attacks by using large load-bearing vehicles to kill scores of unsuspecting people, like the one used in the July attack in Nice, France, when a 19-ton truck was driven into a crowd celebrating Bastille Day. In total, 86 civilians were killed and 434 were injuried.
"The method of such an attack is that a vehicle is plunged at a high speed into a large congregation of kuffar [non-believers], smashing their bodies with the vehicle's strong outer frame, while advancing forward — crushing their heads, torsos, and limbs under the vehicle's wheels and chassis — and leaving behind a trail of carnage," the IS publication states.
The article goes on to tell militants that the use of an automobile is one of the "safest and easiest weapons" that jihadis could use for "just terror" against non-believers.
"Acquiring a vehicle is a simple task regardless of one's location. However, the type of vehicle and its structural and technical specifications are extremely important factors for ensuring the success of the operation," the article continues. "Observing previous vehicle attacks, it has been shown that smaller vehicles are incapable of granting the level of carnage that is sought. Similarly, off-roaders, SUVs, and four-wheel drive vehicles lack the necessary attributes required for causing a bloodbath."
IS further advises radicals to use load-bearing box trucks that are "large in size," "reasonable fast in speed or rate of acceleration," "heavy in weight," and "double-wheeled" to give "victims less of a chance to escape being crushed by the vehicle's tires." Also, the article states that having a vehicle with an outer frame made with stronger materials creates more damage when plowed into large crowds.
The article also tells jihadis to stay away from small cars, SUVs, vehicles that don't go faster than 55 miles per hour and trucks that are hard to maneuver.
The terror group advises jihadists who can't afford to buy a truck to either rent, borrow or steal one to complete their mission. The article includes a photo of a U-Haul truck with an advertised price of $39.95 and the caption "an affordable weapon."
In a section called " applicable targets," IS tells the jihadis to attack outdoor celebrations, streets with heavy pedestrian traffic, festivals, campaign rallies, parades and even outdoor markets.
Although the article doesn't explicitly mention the Macy's Thanksgiving Day Parade, it does include a picture of the annual parade along with a caption stating that it' "an excellent target." The article comes as the Thanksgiving holiday is less than two weeks away.
The article also gave tips on how to prepare for such an attack, stating that it's important for jihadis to assess the vehicle, make sure it has enough gas and survey the planned route.
"Also, an appropriate way should be determined for announcing one's allegiance to the Khalifah of the Muslims and the goal of making Allah's word supreme, so that the motive of the attack is acknowledged," the article states.
IS' media arm has published a number of guides targeted at radicalizing jihadis in the West, including one published earlier this year that taught lone-wolf jihadis how to blend in with the Western culture.