ISIS Video Shows Brainwashed Children Murdering Captives by Shooting Them in the Head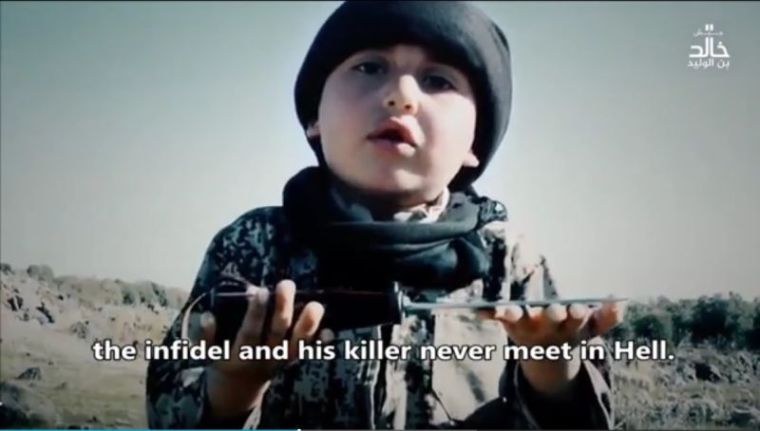 Another video created by the Islamic State terror group has surfaced showing two captured brainwashed children, part of the so-called cubs of the caliphate, shooting two prisoners in the back of the head.
The video, taken in front of a building in Afghanistan, comes just days after reports that the IS terrorists burned alive another child fighter who refused to execute his own family.
The Mail Online reported Monday that the video, released by IS from an undisclosed location in Afghanistan, shows two young boys dressed in black standing behind two captives in orange jumpsuits who are accused of being spies.
The kneeling men have their heads pulled back by the young jihadists, who rant at the camera. The young boys are then shown pointing their handguns at the back of the heads of the prisoners, before carrying out the executions.
IS has released similar videos from Iraq, Syria, and other captured territory in the past couple of years, promoting its radical Islamic brainwashing and military training camps, where children are trained and forced to fight for the extremists.
Those who refuse are severely punished, Alsumaria Newseparate reported on Saturday.
A local source said IS members had burned one of the cubs, though the boy's age and identity was not revealed.
The incident occurred in the Salahuddin Province of Iraq, with the boy being punished for refusing to kill his own family in a village near Tikrit.
The source added that IS has been encouraging its members "to attack their own families, especially those who dissent the group's radical ideology and support security forces and their affiliated militias."
Children brainwashed by IS have been used in suicide bombings, and have been forced to fight in IS' wars in the region.
Another Mail Online article from March revealed that the Hatra heritage site in Iraq, which was liberated from IS' control, had been used as a terror training camp for children, with Iraqi forces finding rubber dolls' heads and mannequins that had been used for target practice and mock beheadings.
"This figure was for teaching children how to slaughter people. They showed them how to use a knife to sever the head on this figure so they would know how to do it on a real person," a soldier identified as Ahmed said.
"Then they taped the head back onto the mannequin to give the children further practice," he added.
A child as young as 6 years old was shown in another IS video in April helping behead prisoners in Syria, and preaching about who's going to Hell.
"The infidel and his killer never meet in Hell," the young boy reportedly says in the video while holding a knife and talking about the terrorists being granted "peace by allah."