ISIS Video Shows 'US Spies' Hanging from Meat Hooks, Being Slaughtered like Sheep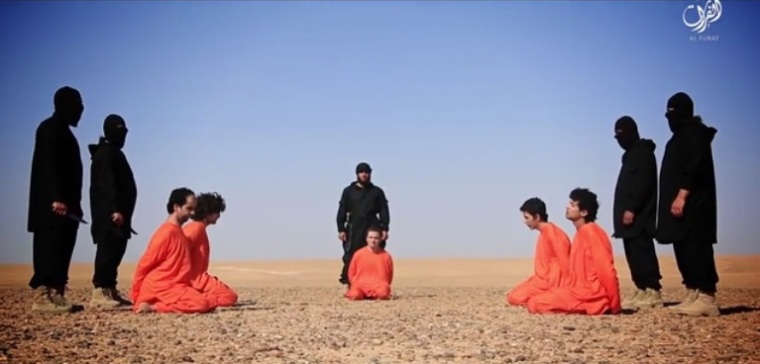 A new video, purportedly released by the Islamic State terror group on the Muslim festival of Eid, shows men accused of spying for the United States being slaughtered like lambs and hanging upside down from meat hooks inside a slaughterhouse.
The more than 12-minute video, titled "The Making of Illusion" and released from "Wilayat al-Khayr," aka Deir ez-Zor area of northeastern Syria on Monday, carries footage of executions and past terror attacks as well as "spy" scenes stolen from television shows and Hollywood movies, according to Heavy.com, which featured the unedited video on its website.
The video shows prisoners' throats being cut in a slaughterhouse, an executioner wearing a white outfit carrying two people, one under each arm, through the slaughterhouse and prisoners hanging upside down by their feet from meat hooks with their throats cut as others await execution, according to the Daily Mail.
The video was released on Eid al-Adha, also called the "Sacrifice Feast," when Muslims around the world honor the willingness of Abraham to sacrifice his son as an act of submission to God's command, before he was provided a lamb to slaughter instead.
Islamic State, a Sunni terror group also know as ISIS, ISIL or Daesh, wants to create a caliphate in the Levant region and beyond, and controls parts of the territories of Iraq, Syria and Libya. Religious minorities are among its main targets.
On Monday, the Pentagon confirmed that a U.S. airstrike killed the Sunni terror group's second-in-command, Abu Muhammad al-Adnani, despite Russia's claim last month that it was one of its planes that killed him.
While the terror group is losing territory in Iraq and Syria, from where it operates, it still has 18,000 to 22,000 fighters there despite some 13,000 airstrikes by a small international coalition led by the U.S., according to CIA director John Brennan.
ISIS uses brutal methods to torture and punish those who it considers to be its enemies.
In its English propaganda publication, IS last year sought to justify its barbarity, saying it is "Islamic" to capture and forcibly make "infidel" women sexual slaves.
"Before Shaytan [Satan] reveals his doubts to the weak-minded and weak hearted, one should remember that enslaving the families of the kuffar [infidels] and taking their women as concubines is a firmly established aspect of the Shari'ah that if one were to deny or mock, he would be denying or mocking the verses of the Qur'an and the narration of the Prophet … and thereby apostatizing from Islam," stated the IS' propaganda magazine "Dabiq."