Islamic Radicals Drown Christian Woman's Baby, Rape and Impregnate Her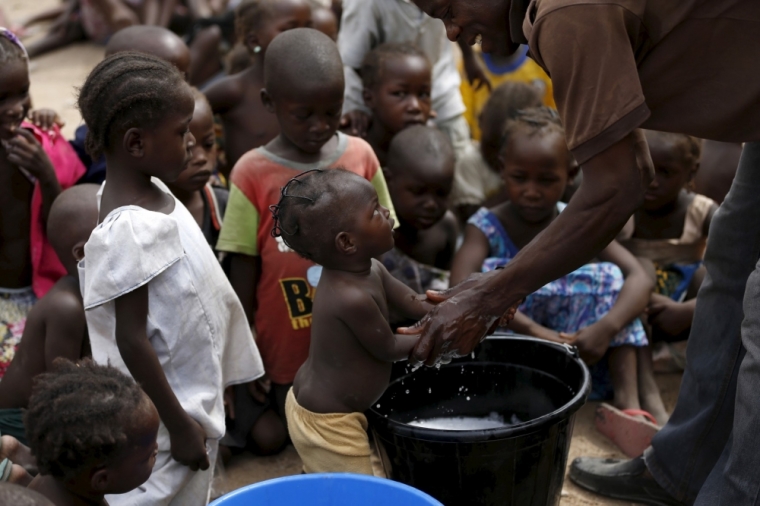 A Christian woman who had to watch her 3-year-old son drown in a river before she was raped and forced to carry the child of a Boko Haram fighter in Nigeria, shared her traumatic story with Pope Francis at the Vatican.
On a special night highlighting Christian persecution, where Rome's Colosseum was lit up in red colors for awareness, Rebecca Bitrus told Francis about the horrors she has suffered, as reported by Crux. 
Bitrus revealed on Saturday that while her husband managed to escape in August 2014 when Boko Haram, the Islamic radical group, attacked the small town in Nigeria where they lived, she and her two young children were captured.
The Roman Catholic mother was taken with her children to a forest encampment, where the terrorists attempted to force her to convert to Islam, but she refused.
"One of the Boko Haram said, 'You're not ready to convert to Islam, so I'm going to teach you a lesson,'" she said, recalling how her 3-year-old son Jonathan was tossed into a nearby river, where he drowned.
Fearing for the life of her 5-year-old son, Zachary, Bitrus said that she agreed to "go through the motions of Islamic devotion," but inside clung to her Christian faith.
"They would come on us with their guns and force us to pray. Each time I bent down to pray, I was reciting the 'Hail Mary' and the 'Our Father,'" the woman said.
"I'm convinced that's what saved me."
Bitrus was then married off to one of the militants, who raped her on numerous occasions over several months, eventually leading her to give birth to a male child, who she called Christopher.
After two years of captivity she managed to escape when Nigerian troops engaged Boko Haram radicals in a battle, but pondered leaving behind Christopher, who was a heavy reminder of what she had suffered. She even laid him down on the forest floor and began to walk away, but her eldest son changed her mind.
"Zachary told me, 'Jonathan isn't here anymore, I don't have a little brother, so why don't you take Christopher?'" she recalled.
The mother decided to pick up the baby and take him with them.
"As soon as I left the camp and we got away, I knew God was going to protect me," she said. "I put my trust in God."
After a long and painful journey through the forest, she eventually reached safety and started looking for ways to rebuild her life at a new community. She again thought about giving away Christopher for adoption.
"I wanted to give him to someone else who would take care of him, but the bishop helped me to accept him," she said, referring to Bishop Oliver Dashe Doeme of Maiduguri.
"He told me, 'Who knows who this child will become? He could be very special to you in the future,'" she said. "That helped me to have a positive attitude about everything I'd gone through."
Francis, who also heard about the tales of persecution of numerous other Christians, including mother of five Asia Bibi who has been placed on death row for blasphemy in Pakistan, declared both women to be "martyrs."
"The witness of Rebecca and Asia Bibi are a model for a society that today has ever more fear of suffering," the pope said.
Boko Haram, which has kidnapped and forced into marriages thousands of women and girls in Nigeria, including many Christians, continues its horrific practices.
The terror group kidnapped 110 schoolgirls in a raid in Yobe State last week, leading President Muhammadu Buhari to declare a "national disaster."