New 'Jihadi John' Arises as ISIS Beheads 5 British 'Spies'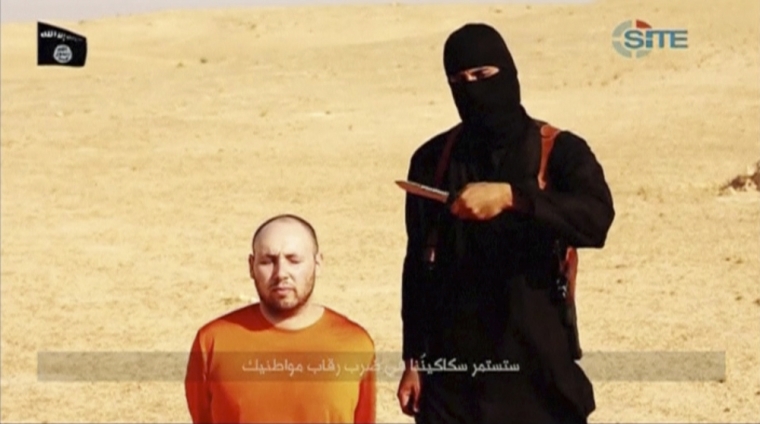 A new video released by the Islamic State terror group shows a man and young boy with British accents presiding over the beheading of five supposed U.K. spies, and warning of further attacks.
Media analysts have suggested that the masked man with the British accent is taking up Jihadi John's mantle, the infamous IS figure believed to have been a U.K. citizen who was featured in several of the terror group's execution videos throughout 2015.
BBC News reported that Britain's security and intelligence agencies are examining the new 10-minute video, which shows the killing of five men who were accused by the Islamic militants of working as spies for the U.K.
"We will continue to wage jihad, break borders and one day invade your land where we will rule by the Shariah," the masked militant says in the video.
BBC security correspondent Frank Gardner noted that IS has released a number of videos showing the executions of men it claims are spies.
"IS is absolutely paranoid about [informants]," Gardner said.
"They are looking over their shoulders, wondering where the next drone strike is coming from and they are wondering who in their midst is informing and reporting on them."
Gordon Corera, another BBC security correspondent, suggested that the IS spokesman in the video is trying to take the place of U.K. citizen Mohammed Emwazi, otherwise known as Jihadi John, who is believed to have been killed in Syria by an airstrike in November.
"This latest video by IS seems to show another man trying to take up his mantle," Corera writes.
"The identity of the masked man is so far unknown but authorities will be trying to identify him and confirm if he is British."
The Daily Mail also noted that the masked jihadi in the latest beheading video "bore a chilling resemblance to ISIS' former executioner in chief, Jihadi John."
The IS executioner is strongly critical of U.K. Prime Minister David Cameron throughout the video, and accuses him of being a "slave" to the White House and the the United States government.
"How strange it is that the leader of a small island threatens us with a handful of planes. One would have thought you would have learned the lessons of your pathetic master in Washington and his failed campaign against Islamic State," the militant says.
"You will lose this war, as you lost in Iraq and Afghanistan. But this time when you lose, your children will pay for your deeds. And remember you as the fools who thought they could fight the Islamic State," he adds.
The U.K. has strongly supported the U.S. in ongoing airstrike operations against terror targets in Syria, seeking to stop the advance of IS. Back in November, the British leader said that the killing of Jihadi John was justified due to his horrific crimes.
"Emwazi is a barbaric murderer. He was shown in those sickening videos of the beheading of British aid workers. He posed an ongoing and serious threat to innocent civilians not only in Syria, but around the world and in the United Kingdom too," Cameron said at the time.
"He was ISIL's lead executioner, and let us never forget that he killed many, many Muslims too. And he was intent on murdering many more people," he added.