Israel Declares 7-Hour Truce in Gaza; Withdraws Most Troops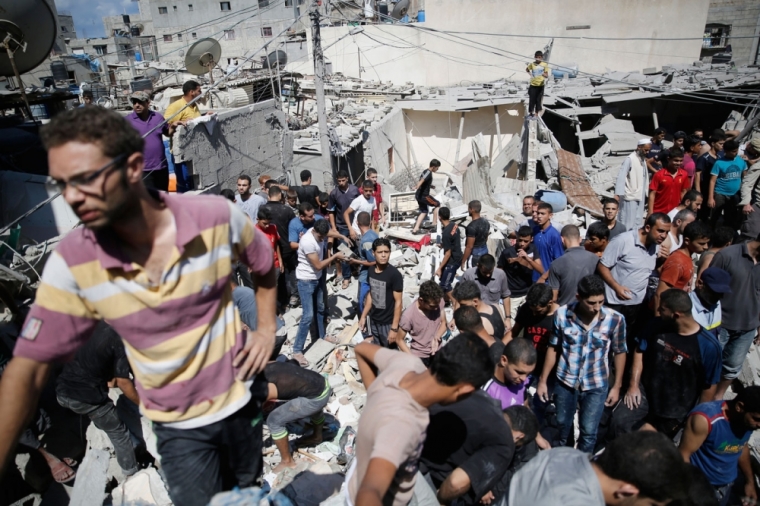 Israel declared a seven-hour unilateral humanitarian ceasefire in most of the Gaza Strip beginning Monday morning after the United Nations criticized its missile strike on a UN school sheltering Palestinians. Israel now appears to be winding down its ground operations by pulling out a majority of its troops from the region.
Israel will hold fire from 10 a.m. to 5 p.m. local time Monday in Gaza, provided Hamas militants do not launch attacks, to allow the entry of humanitarian aid and for displaced Palestinians to return to their homes, Sky News quoted the Israeli military as saying.
The ceasefire, however, does not apply in the town of Rafah in southern Gaza, where clashes are still underway.
While Israel withdrew most of its ground troops from Gaza Sunday, Hamas officials vowed to continue their fight, according to The Associated Press.
An Israeli attack on a UN school in Rafah left 10 civilians dead and wounded another 30 on Sunday.
In a strongly worded statement, the United Nations called the strike "appalling" and "disgraceful."
The Israeli military says it has identified at least 32 fortified tunnels in Gaza, 11 of which run deep beneath the border and lead into Israel's territory.
"We've caused substantial damage to this network to an extent where we've basically taken this huge threat and made it minimal," Lt. Col. Peter Lerner, an Israeli military spokesman, was quoted as saying Sunday.
Israel began its attacks on Gaza on July 8 in response to an increase in cross-border rocket strikes by Hamas militants. Since then, more than 1,800 Palestinians have been killed and over 440,000 people in Gaza have been displaced, according to Sky News. Israel says 63 soldiers and three civilians have been killed in the fighting.
Lerner added that Israel will continue to target Hamas' rocket-firing capabilities and its ability to infiltrate Israel.
Meanwhile, Israel rejected ceasefire talks attended by Egyptian and Palestinian negotiators in Cairo in Egypt on Sunday, citing continuation of firing of Hamas rockets from Gaza.
The UN condemnation of Israel came two days after the White House strongly criticized Gaza militants for violating a ceasefire, calling it "barbaric and outrageous."
"This is an outrageous action and we look to the rest of the world to join us in condemning it," White House Deputy National Security Adviser Tony Blinken told MSNBC.
"The Israelis, of course, are reporting this morning that that ceasefire was broken," White House spokesman Josh Earnest told CNN. "Apparently, Hamas individuals used the cover of a humanitarian ceasefire to attack Israeli soldiers and even to take one hostage. That would be a rather barbaric violation of the cease-fire."
Two Israeli soldiers were killed and another soldier, identified as 23-year-old Second Lieutenant Hadar Goldin, was believed to be abducted after Hamas militants emerged from a tunnel in Gaza last week. However, Israel's military later said Goldin died in combat.
Last week, the U.S. Senate as well as the House approved a $225-million support for Israel's Iron Dome missile defense system.
U.S. Secretary of State John Kerry earlier traveled to Egypt and France to help forge an agreement between Israel and Palestinian militants to end the fighting.