Israeli Bombardment Partially Destroys Catholic School With Disabled Children in Gaza; Parish Priest Condemns 'Absurd War'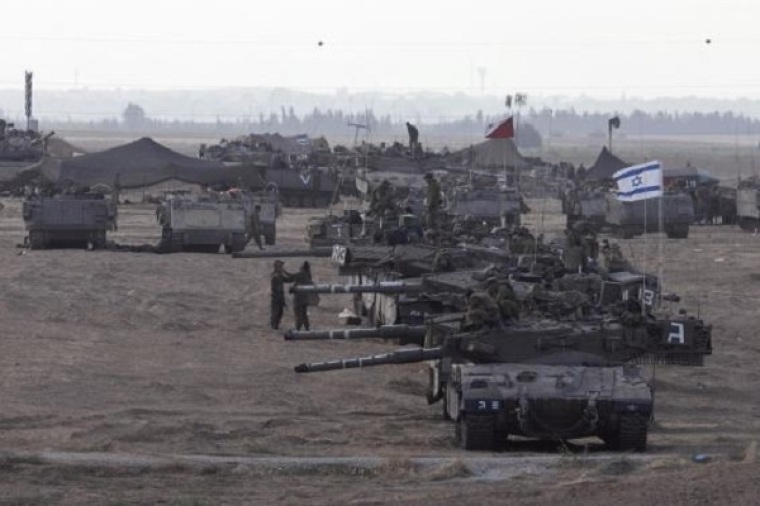 An Israeli bombardment has partially destroyed a Catholic school, along with the parish priest's office and other church facilities in a raid on Gaza on Tuesday. As many as 29 disabled children and nine elderly women are said to have been living at the complex, with the parish priest condemning the "absurd war" between Israel and Hamas.
"We had a tough night, but we are here. This war is absurd,'' said parish priest Jorge Hernandez, who was living at the Holy Family Catholic church, alongside three nuns with the Mother Theresa order, according to Fides News Agency.
"After destroying the neighborhood of Shujayeh, now Zeitun is being targeted. Everything happens around us. The Hamas militants continue to fire rockets and then hide in the alleys. And we cannot do anything. We cannot evacuate, it is impossible with children. Their families live here. It is more dangerous to go out than stay here. We try to stay in safer places, always on the ground floor."
The Israeli army had apparently been targeting a home a few meters away from the parish, which was destroyed in the bombing.
Residents of the al-Zeitun area, which houses the Catholic parish, reportedly received SMS messages from the Israeli army Monday afternoon warning them to leave their homes, but a number of people, including Fr. Hernandez, were unable to evacuate.
The war between Israel and militant group Hamas has stretched on for over three weeks, with health officials in Gaza reporting that at least 1,284 people have been killed, and more than 7,100 wounded. Israel has also lost 53 soldiers and three civilians, Fox News reported.
A number of shelters and schools have been hit in the area, with Palestinian authorities claiming on Wednesday that a United Nations school was struck by Israeli tank shells, which killed 15 people and injured 90 others.
News of the attack followed Israel's military announcing that a four-hour cease-fire had been reached in parts of the Gaza strip.
IDF has said that it has hit 75 sites, including five mosques, where it suspects militants to be hiding weapons and gaining access to terror tunnels that extend into Israel.
The Israeli government has said that the ground operations and air strikes into Gaza are a response to the continuous rocket bombardment from Hamas, which is putting Israeli citizens in danger.
Hamas has rejected several cease-fire proposals, including one brokered by U.S. Secretary of State John Kerry, explaining that there cannot be peace in the region until a major economic blockade is lifted from Gaza.
The U.N. Security Council demanded earlier this week that an "immediate and unconditional" cease-fire in Gaza be reached, calling on both Israel and Hamas "to accept and fully implement the humanitarian cease-fire into the Eid period and beyond."
The civilian casualties continue mounting in Gaza, however, with Israel accusing Hamas of using people as "human shields" and hiding in civilian areas.
Bishop William Shomali, Patriarchal Vicar of the Patriarch of Jerusalem of the Latins, said that both the Israeli army and Hamas "must listen to the voice of reason, stop the bloodshed and begin negotiations in order to address and solve problems. Otherwise all this violence will continue to repeat itself cyclically; the same causes will continue to produce the same effects."
Christian leaders in the region have warned against placing the blame for the conflict solely on either side.
Salim J. Munayer, the director and founder of Musalaha Ministry of Reconciliation, which works toward Israelis and Palestinians coming together, urged Christians not to take sides in the current conflict, but follow Jesus' example and promote reconciliation.
"Christians around the world can help promote reconciliation by remembering and encouraging us to remember the central figure of our faith, Jesus. We need to focus on His example as a peacemaker, as He called us to be at peace with God and each other," Munayer told The Christian Post in an email interview earlier this week.
"Instead of taking sides in our conflict, as many outside voices do, Christians should play the role of a bridge, and call us to follow Jesus' example, and His teachings."