James Foley's Mother 'Embarrassed, Appalled' at Obama's Handling of Son's Abduction by ISIS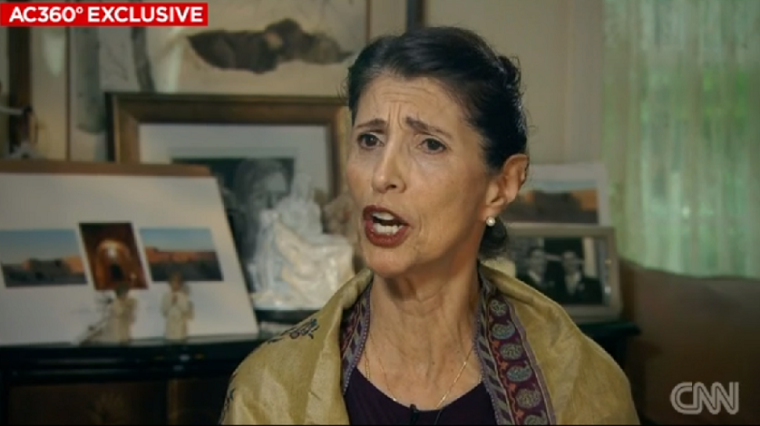 Just weeks after the world was forced to witness the beheading of American journalist James Foley by terror group ISIS, his mother, Diane Foley, says she's "embarrassed and appalled" by the way the Obama administration handled her son's abduction. She also argues that airstrikes are not the best response to combat the terrorist organization.
"As an American I was embarrassed and appalled," said Foley in an interview with CNN's Anderson Cooper. "I think our efforts to get Jim freed were an annoyance" to the U.S. government, she said. "It didn't seem to be in (their) strategic interest, if you will."
The grieving mother said her son believed that the U.S. government would have saved him. But government officials, she said, warned her family that they could be prosecuted if they tried to raise ransom to pay ISIS for her son's life.
"Jim believed to the end that his country would come to their aid. We were asked to not go to the media, to just trust that it would be taken care of," said Foley.
"We were told that our government would not exchange prisoners, would not do military action. So we were just told to trust that he would be freed somehow and he wasn't, was he," she said with biting restraint.
Late Wednesday night, in announcing an open-ended campaign of airstrikes as part of his strategy to combat ISIS, Obama mentioned Foley's death.
"They enslave, rape, and force women into marriage. They threatened a religious minority with genocide. In acts of barbarism, they took the lives of two American journalists, Jim Foley and Steven Sotloff," said Obama in the prime time address.
Foley, however, questioned whether bombing ISIS would help eradicate the terror group or simply make things worse.
"This whole strategy to eliminate ISIS and the terror threat is important, obviously, so perhaps part of the strategic way of doing that is to bomb them, and to engage in force. But that only caused Jim's death," she said.
"I guess all I'm trying to say is that our government needs to be shrewder, smarter, willing to negotiate with these people who hate us, so that we can find better ways to rid ourselves of terror," she said.
"We're dealing with very difficult people when we talk about ISIS, their hate for us is great. And yet some of our response to them has only increased the hate. So I feel there's a need for debate, discussion. I pray that our government would be willing to learn from the mistakes that were made and to acknowledge that there are better ways for American citizens to be treated," she added.
According to the latest Washington Post-ABC News poll highlighted in a report in The Washington Post, Foley isn't the only woman concerned about the Obama administration's handling of ISIS.
Among the findings of the poll is that Obama's approval has slipped among key parts of the Obama coalition — women, youth and Latino voters who were most responsible for putting him into office, according to the Post.
Women who participated in the survey disapprove of the president by a 50 percent to 44 percent margin. In 2012 women voters supported Obama by a 55 percent to 44 percent margin.
On Tuesday night, two focus groups of women met in Little Rock, Arkansas, and Des Moines, Iowa, to discuss what their issues are going into the mid-term elections and ISIS loomed large. The groups of women represented states with tight Senate races that could help determine whether or not the upper chamber stays in the hands of Democrats.
Neil Newhouse, a Republican pollster, explained that the recent atrocities committed by ISIS has shifted the focus among women from economic anxiety to national secueity.
"There was a sense that their personal safety and security was threatened," said Newhouse, who noted that the threat posed by ISIS "has moms concerned. ... These are women who don't naturally gravitate to international issues."
Newhouse's Democratic partner, Margie Omero, agreed and said women were also concerned about crime in their communities, pointing to the shooting of 18-year-old Michael Brown in Ferguson, Missouri.
"It was more pronounced than concerns about the economic downturn," said Omero. "There was a lot more concern about crime and international unrest than we've seen in the past."
The two pollsters also agreed that, "regardless of their 2012 vote, moms' opinions of Obama have dulled. At best, some feel sorry for him."
Obama's approval rating among younger voters, aged 18-29, also showed an 11 percent drop since June, at 43 percent.
Among Hispanics, support for Obama fell from 75 percent in the first half of 2013 to 57 percent.