Janay Rice Defends Disgraced Husband Ray Rice on Instagram; Slams Media for 'Nightmare' Ordeal (VIDEO)
Janay Rice Defends Disgraced Husband Ray Rice on Instagram; Slams Media for 'Nightmare' Ordeal (VIDEO)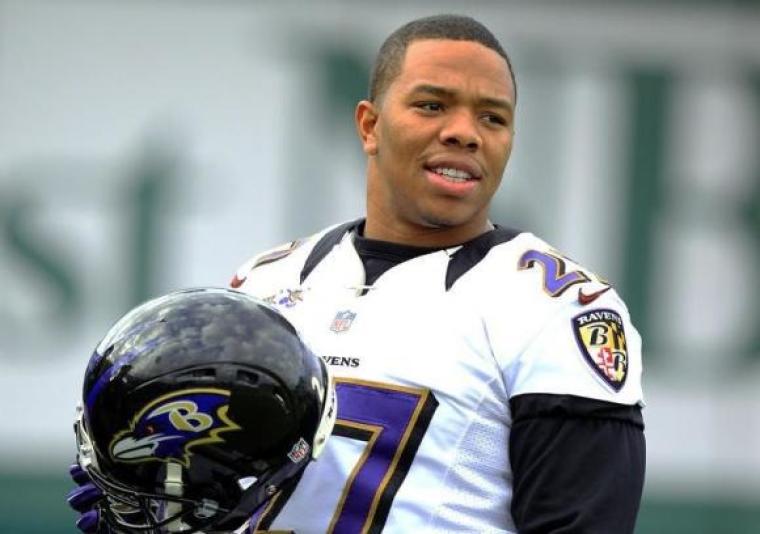 Janay Rice, the wife of disgraced ex-Baltimore Ravens player Ray Rice, recently slammed the media for demonizing her husband.
On Monday Rice, 27, was dropped by the Ravens and suspended indefinitely by the NFL after a graphic new video of his assault on Janay surfaced online.
On Feb. 15, Rice and his then fiancée were embroiled in a physical altercation at Revel Casino in Atlantic City, New Jersey. Initially footage of the incident did not show the entire fight, however, on Monday TMZ.com released an extended video which showed Rice knocking her out unconscious inside of an elevator and going on to kick her limp body.
Janay, who went on to marry him after the assault, urged the public to leave them alone. The couple share a 3-year-old daughter.
"I woke up this morning feeling like I had a horrible nightmare, feeling like I'm mourning the death of my closest friend," she wrote on Instagram on Tuesday.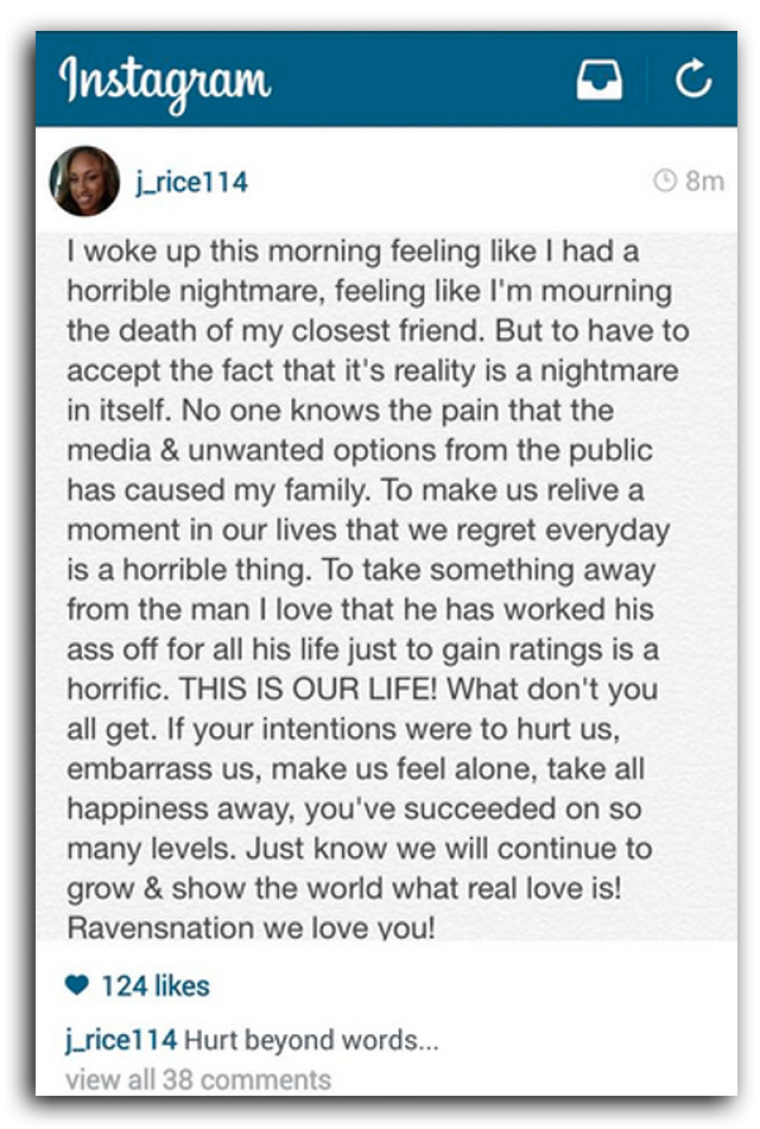 "No one knows the pain that the media & unwanted options from the public has caused my family. To make us relive a moment in our lives that we regret every day is a horrible thing," she continued. "To take something away from the man I love that he has worked his ass of for all his life just to gain ratings is horrific."
In March, Rice was indicted by a grand jury for third-degree aggravated assault related to the incident even though Janay refused to testify against him.
The charges will likely be dropped if he completes a pre-trial intervention program, which the Atlantic County Prosecutor's Office agreed to.
The couple reportedly began counseling after the assault and are working to strengthen their marriage.
"THIS IS OUR LIFE! What don't you all get. If your intentions were to hurt us, embarrass us, make us feel alone, take all happiness away, you've succeeded on so many levels," Janay wrote. "Just know we will continue to grow & show the world what real love is! Ravensnation we love you!"
In July, Rice was suspended for the first two games of the 2014 NFL season over the incident.
NFL Commissioner Roger Goodell later announced a policy change to the NFL for players who commit acts of domestic violence. They are now subject to longer suspensions.