Jason Castro, Former 'American Idol' Contestant, Reveals Dark Secret of Porn Addiction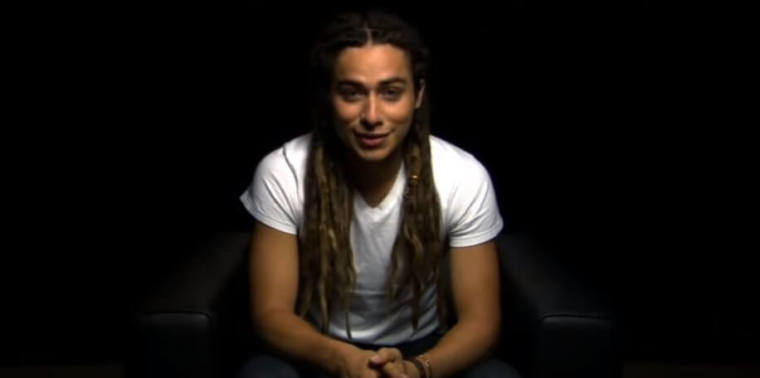 In his "I Am Second" video, Jason Castro, who placed fourth on season seven of "American Idol," candidly shares the deep, dark secret about his addiction to pornography that nearly ruined his marriage.
"Having a secret just eats at you like so much. You feel like a liar the whole time," Castro said in the film.
As "American Idol" was being taped, Castro experienced a sense of loneliness and sought to fill the void with porn. Soon he found himself to be dependent on it.
"By the time I was on tour, I was looking at stuff every day, multiple times a day," Castro said. "This addiction was really bothering me. It was bringing me down. It was keeping me depressed. I wasn't sleeping at night. I would stay up all night out of shame and then go back to my thing. The addictive cycle ... I couldn't stop."
Despite having a serious girlfriend at the time, his addiction led him to sleep with someone else on tour, he admitted. "I found myself doing something I'd never come close to with my girlfriend, my future wife. We had barely kissed and here I had slept with somebody I barely knew."
Castro initially decided not to let his then-fiancé know about it, but finally confessed. The engagement was called off, but they eventually reconciled and married in January 2010.
His wife warned him if he ever looked at porn again, they would divorce, but Castro couldn't help. "I would wake up every morning and my heart would start racing, and I would want to go look at porn. Look at porn and then go start the day. Then be the happy, good husband."
As a result, the couple began to grow apart. Eight months after their marriage, they were invited to a 12-step support group at church.
Castro got a sense of hope after listening to similar stories from others and realized that he wasn't alone. A few months later, he confessed before the group as well as his wife about his continued addiction.
One night, Castro disclosed everything to his wife, revealing his true self, and found healing.
"That is when everything started to change, because I started feeling freer. I always believed in God but didn't really trust Him with everything. I thought this thing was too dirty, too dark to share with anybody. But once I trusted with Him we started the road of living a godly life, living in community and being known. It feels good to be known."
Castro found the strength to remove every outlet and potential hazard that might weaken him. Through accountability with friends and openness with his wife, he found freedom from his addiction. He and his wife now have two children.
"This struggle might never go away. It's part of my flesh, but I've been able to overcome it. This is the real miracle — that I'm able to have a family right now, married to my wife and a better relationship than either of us ever imagined," he said.
Castro, was one of the first individuals featured on an "I Am Second" video when the website was launched in December 2008.
His singing of "Hallelujah" on "American Idol" led to a surge of popularity for the Jeff Buckley cover of the Leonard Cohen song from the iTunes Store, propelling it to the No. 1 spot on the iTunes singles chart.