Jay Z Magna Carta: Rapper Records Duet With Beyonce, Song About Blue Ivy (VIDEOS)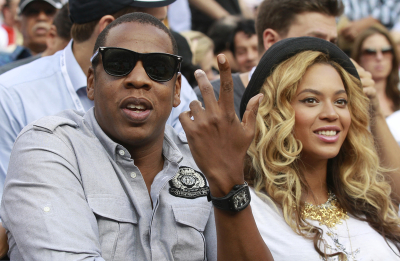 Jay-Z reportedly teamed up with Beyonce on a brand new song to be featured on his upcoming twelfth studio album, " Magna Carta Holy Grail."
The hip hop mogul, 43, has previously collaborated with his pop star wife, 31, on various hit songs including "Crazy in Love;" "De Ja Vu;" and "Upgrade U." The pair reportedly again joined forced on "Part II (On the Run)," which is track number nine on the highly anticipated album.
"She fell in love with the bad guy / The bad guy / What you doing with them rap guys / Them rap guys / They ain't see potential in me girl / But you see it/ If it's you and me against the world / Then so be it," Jay-Z reportedly raps in the song, according to RollingStone.com, which published lyrics.
Critics have compared the song to the couple's 2002 hit "03 Bonnie and Clyde," which tells a story about a rebellious couple who are desperately in love.
The 13-track album, which is due for release on July 4, will be Jay-Z's first in four years. The rapper, whose real name is Shawn Carter, released "The Blueprint 3" in 2009. The album won international acclaim, a Grammy nomination, and sold 476,000 copies in its first week.
Fans were in a frenzy on June 16 when Jay-Z unexpectedly announced his twelfth studio album would be released within weeks. A video announcement reportedly aired during the NBA championship finals and immediately went viral on social networking sites.
"It's this duality of how do you navigate your way through this whole this whole thing ... through success, through failures, through all of this, and remain yourself," Jay-Z said about his vision for the project.
Inside "Magna Carta Holy Grail" with JAY Z + Samsung
In a rare show of emotion the rapper was seen sharing his thoughts on fatherhood in a video posted on Youtube on Friday. The Grammy-award winning artist opens up about his 1-year-old daughter, Blue Ivy, on track twelve, "Jay-Z Blue."
"This song is toying with the idea of it being on Heaven or Hell on earth. My idea of being on Heaven is in your daughter's laughter. Hell could be if your child's missing for three minutes; you're in three minutes of Hell," he said in the 47-second video.
"It deals with when my pop left when I was young. He didn't teach me how to be a man, nor how to raise a child, nor treat a woman," Jay-Z reveals. "So, of course, my karma: the two things I need, I don't have — and I have a daughter. It's the paranoia of not being a great dad."
"JAY Z Blue" - JAY Z + Samsung + Magna Carta Holy Grail