JCPenney, Sears Respond to Christian Complaints Over 'SNL' Skit 'Djesus Uncrossed'
American Family Association Pressures Retailers to Pull Advertising From 'Saturday Night Live'
Major retailers JCPenney and Sears have taken measures to address demands from Christians furious over an offensive skit that aired last month on NBC sketch comedy show "Saturday Night Live," according to the American Family Association.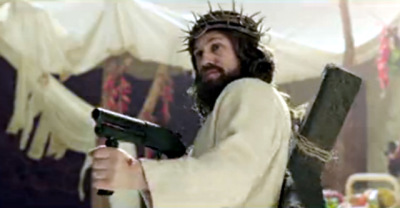 The AFA revealed Tuesday that after petitioning JCPenney, Sears and Sears subsidiary Kmart to stop funding the "anti-Christian" content promoted on "Saturday Night Live" during its Feb. 16 airing, two of the retailers took action.
"Thanks for bringing it to our attention, it wasn't supposed to happen and we're taking steps to make sure it doesn't happen again. Going forward our ads will not run in this form again around 'SNL,'" Sears said in a letter to the AFA after the pro-family Christian organization complained.
While JCPenny did not immediately respond to complaints from Christians around the nation offended by "SNL's" Quentin Tarantino-esque "Djesus Uncrossed" skit, the AFA revealed that the retailer withheld ads from the Feb. 23 airing of the long-running comedy program. The company also removed its ad from the NBC Web version of the "Saturday Night Live" episode.
American Family Association President Tim Wildmon applauded JCPenney and Sears in their response to protests against the "SNL" skit, and expressed hope that patrons who had boycotted the retailers for supporting "trash" will return their business to these stores.
"I hope folks can reinstate their patronage to these stores and that Sears and JCPenney can stick with the good decisions they have now made. When you embrace television programming with no morals, you can't possibly embrace the public you are trying to sell to. We applaud Sears and JCPenney for their wise action to stop funding damaging material such as the skit that mocked our Lord Jesus Christ on 'Saturday Night Live,'" Wildmon said in statement.
The AFA, along with its One Million Moms division, has encouraged Christians to reach out to Sears and JCPenney to encourage them to keep their ads from running on future "Saturday Night Live" episodes, either on television broadcasts or on the Internet.
"Djesus Uncrossed," a mock movie trailer skit that aired four days into the Christian holy season of Lent, features actor Christoph Waltz as a vengeful resurrected Jesus Christ. Waltz wears a crown of thorns, a long white robe and a small wooden cross on his back as he slashes and shoots down Roman soldiers left and right in gory fashion, similar in style to Tarantino films like "Inglorious Basterds" and "Django Unchained."
"He's risen from the dead, and he's preaching anything but forgiveness," says the skit narrator. "He may be wearing sandals, but he can still kick a--."
While some audiences found the skit tasteless and indicative of mainstream media's attitude toward Christians, others suggested that writers of the "Saturday Night Live" skit might have been projecting the image American Christians have made of Christ.
"We have tried to arm him with our military-industrial complex, drape him with our xenophobia, outfit him with our weapons, and adorn him with our nationalism. We've turned the cross into a flagpole for the Stars and Stripes. We have no need for Tarantino to re-imagine the story of Jesus into a fantasy of violent revenge. We've done it for him," wrote blogger David Henderson, also a candidate for the priesthood in The Episcopal Church.
"Saturday Night Live" drew further criticism this week over a "tasteless" March 2 skit that featured actor and comedian Kevin Hart portraying 9-year-old Oscar nominee Quvenzhané Wallis as the successor to a retired Pope Benedict XVI.