JD Greear Calls on SBC to Better Include Women in Leadership, Recommit to Exposing Abuse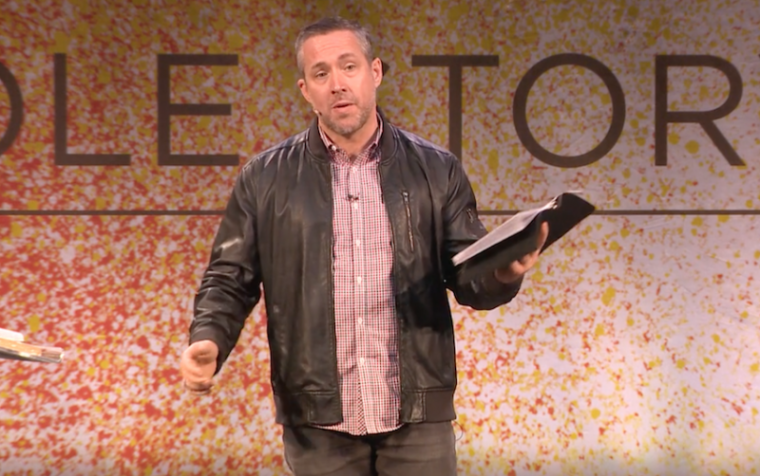 The Southern Baptist Convention needs to include more women and minorities in its leadership, said Pastor J.D. Greear, who is a nominee for SBC president this year.
In a Facebook live video posted Thursday afternoon, Greear explained that he had a few things on his heart that he felt needed to be addressed by the nation's largest Protestant denomination.
Greear, who leads Summit Church in Raleigh-Durham, North Carolina, said in the video that while "our doctrine and our mission are solid," he felt the SBC needed to either commit or recommit to doing a list of things.
Among them, argued Greear, was the status of women and minorities in the SBC, which he believed needed to be more proportionately represented in leadership.
"Our failure to listen to and honor women and racial minorities and our failure to include them in proportionate measures at top leadership roles have hindered our ability to see sin and injustice and call it out," said Greear.
"It's not that we need a charitably invite them to the table as if we're sharing something, we need them, because God has gifted them with a wisdom, because of their experiences that we have been neglectful and lax and have guarded our institutions and our positions of leadership at our detriment. I think God is showing us that we need to repent for that posture and include our brothers and sisters of color and women in leadership."
Despite calling for more female leadership, Greear echoed comments he made earlier this month in support for complementarianism, which states that men and women have distinct roles in church and the home.
Greear explained that he wanted the SBC to have "a complementarianism that recognizes the gifts that God gives to women in the church and seeks to empower them, that honors our sisters in Christ as equal in salvation, equal in value, and equal in spiritual giftings all while being faithful to the inerrant Word of God."
"[Complementarianism] is biblical and we need to honor that and we need to be faithful to that, but at the same time recognize that God has gifted women with spiritual gifts, leader and positions of honor. We need to be as committed to raising them up in leadership and ministries as we are to our sons," he said.
During the nearly 9-minute long video, Greear also expressed his belief that there needed to be more transparency in the SBC, especially regarding problems of abuse.
He said he believes that the SBC needs to recommit to "protecting the vulnerable" and "exposing the abuser" because "God hates abuse."
"God cannot tolerate impurity. We need to deal with the sin among us seriously and somberly but also just with grace towards each other."
Greear's comments come after it was announced that former SBC president Paige Patterson was resigning from his current position as president of Southwestern Baptist Theological Seminary in response to controversies over past comments he made about whether a woman in an abusive relationship should divorce her husband.
"It depends on the level of abuse to some degree. I have never in my ministry counseled that anybody seek a divorce, and I do think that's always wrong counsel," he said in a 2000 interview.
In addition to the past comments, The Washington Post released an article on Tuesday in which a woman alleged that Patterson discouraged her from going to the police after she was raped by a man she was dating in 2003.
Regarding the Patterson controversies, Southern Baptist Theological Seminary President Al Mohler wrote a column arguing that the SBC was experiencing "its own horrifying #MeToo moment."
"The judgment of God has come. Judgment has now come to the house of the Southern Baptist Convention. The terrible swift sword of public humiliation has come with a vengeance. There can be no doubt that this story is not over," argued Mohler.
"The #MeToo moment has come to American evangelicals. This moment has come to some of my friends and brothers in Christ. This moment has come to me, and I am called to deal with it as a Christian, as a minister of the Gospel, as a seminary and college president, and as a public leader. I pray that I will lead rightly."
The SBC will hold its annual meeting on June 12-13 in Dallas, where Greear will be up for presidency against Ken Hemphill, an administrator at North Greenville University and a former Southern Baptist Convention seminary president. Greear narrowly lost an election for the position in 2016 to current president Steve Gaines.