Jennifer Hudson: 'Nativity' Actress Sings 'Silent Night' in First Look Trailer (VIDEO)
A new trailer featuring actress and singer Jennifer Hudson in "Black Nativity" has been released.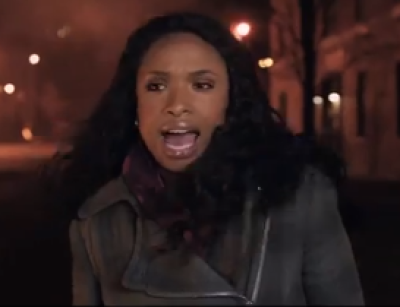 A musical drama for the holidays, Jennifer Hudson will star in the contemporary adaptation of Langston Hughes' play as a struggling single mother. After being evicted from their Baltimore home, Hudson sends her son, played by Jacob Latimore, to her parent's house in New York. Forest Whitaker will play Hudson's father, a pastor based out of Harlem, and Angela Bassett will play the wife.
In the new trailer released recently, Hudson can be seen singing a contemporary version of "Silent Night."
"It's a musical and has kind of a Christmas feel to it," Hudson said of the film in a previous interview with the Chicago Tribune. "All of those things intrigued me and made me want to be a part of it."
Hudson, who gone through severe tragedies in her past, explained that she felt "connected" to her character in the film.
"It has to be something I feel connected to or have a passion to do," Hudson said of her roles. "I don't believe in doing things just to do them. It has to make sense for me to do it. You have to be passionate about it."
In 2008, Hudson's mother, brother, and nephew were killed in a shooting. Following the shooting, Hudson remained out of the public eye for three months. Four years before that, in 2004, she became a finalist in the popular reality series "American Idol." Despite her seventh place finish, Hudson has continued on to become one of the most successful Idols to have appeared on the show. In 2006 she won an Academy Award for Best Supporting Actress, a Golden Globe Award, aBAFTA Award, an NAACP Image Award and a Screen Actors Guild Award for her role in "Dream Girls."