Jeremy Lin Jersey Sales Explode as Knicks Run Continues
Jeremy Lin is having a massive affect on the NBA; live attendances have increased on last season, as well as more watching games on TV, and TNT is currently having its best ratings in its 27 years of broadcasting NBA games.
Tuesday night, Lin may have helped the New York Knicks to their sixth win in a row, but "Linsanity" seems to be benefiting the entire league.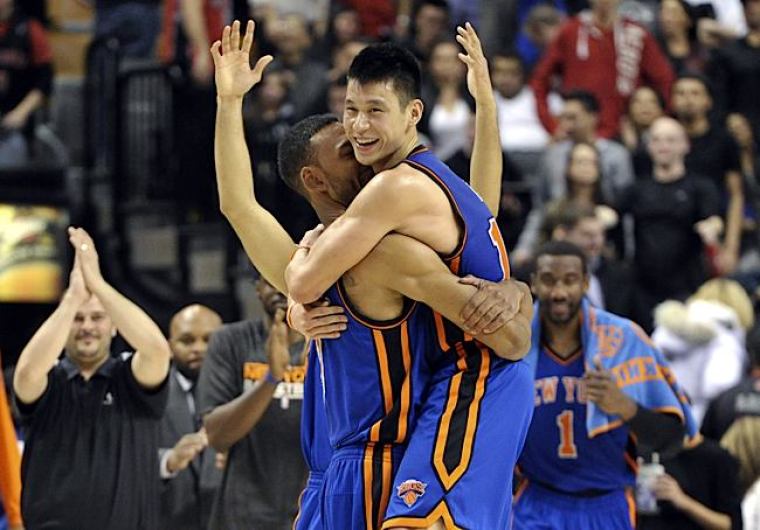 Last Saturday the Timberwolves hosted the Knicks and experienced their highest attendance for eight years with more than 20,000 fans packing the arena.
Lin, who no one seemed to want just a month ago, started his incredible run on Feb. 4, and since that time he has had the highest selling jersey in the entire league, beating the regularly top selling players' jerseys such as LeBron James and Kobe Bryant.
Stores have been selling out of Lin merchandise, and even when new shipments arrive they sell out again almost instantly. The league has been left shocked by the sudden rise of Lin, who was relatively unknown just a few weeks ago.
The Knicks obviously have been the biggest to benefit from Linsanity, both on and off the court. The cheapest tickets available for the Knicks' away tie against the Raptors on Tuesday night were $44. In comparison tonight when Toronto host the Spurs, the cheapest tickets will be just $12.50.
Due to a feud between MSG and Time Warner, more than 2 million Time Warner Cable customers have been unable to watch the Knicks. However, with Lin becoming the hottest property in the league, the Knicks will certainly have a lot more strength to end those negotiations quickly.
With Lin scoring the winning points with less than a second to go in the Knicks' 90-87 victory over the Toronto Raptors on Tuesday night, it appears the Linsanity could be here to stay, which would be a good thing for both the New York Knicks and the NBA as a whole.
WATCH TO SEE JEREMY LIN TALK GET COMPARED TO TEBOW IN THE WALL STREET JOURNAL
WATCH TO SEE THE JEREMY LIN THANK JESUS CHRIST ON NATIONAL TELVESION