Jeremy Lin Upset With Knicks After Rockets Claim NY Not as Interested?
Jeremy Lin reportedly agreed to sign a four-year, $28.8 million contract with the Houston Rockets to the shock of many, but some reports have surfaced giving some perspective to his interest in the Texas team which stems from his issues with the New York Knicks.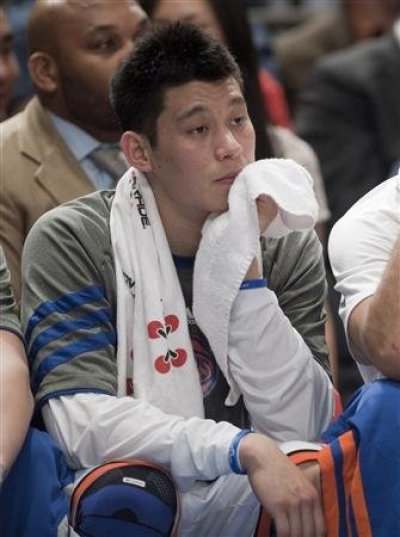 Lin, 23, led the Knicks to a six-game winning streak last season after being waived by two teams and sent to the D-League. After the Asian-American point guard from Harvard was dubbed "Linsanity" many thought the Knicks would take advantage of marketing opportunities and re-sign the budding guard with confirmations from head coach Mike Woodson.
"We'll get him back in uniform ... and get him ready for practice and camp and throw the ball in his hands and say, 'Let's go,'" Woodson said in an interview with ESPN NY last month. "That's what we're going to do when we get [Lin] signed."
However, recent reports have surfaced about Lin being upset with his former team. Although
the Knicks are allowed to match any offer given to Lin by the Rockets since he is a restricted free agent, the New York Daily News reported that the former Harvard guard was shocked that New York did not initiate the offer for a larger payout.
"He was surprised that the Knicks didn't make the first move," a source from the NBA told the publication. "They know they've got to mend some fences with him because he believes what the Rockets have told him, that the Knicks weren't as interested as they are."
However, the source said Lin is still young in the league, where he earned $788,000 last season, and that the Knicks did not increase his contract because they were following league guidelines.
"What he has to learn is that it's not personal," the source told the Daily News. "The Knicks merely played by the rules.''
Still, the Knicks will reportedly prove their loyalty to Lin by their willingness to offer him as much as it takes to re-sign a contract with the team.
"They will match any offer on Lin up to 1 billion dollars," a source told ESPN.com's Marc Stein.
The Knicks have three days to match the Rockets' offer to Lin and are expected to do so on Wednesday, the official first day players are allowed to sign contracts for the 2012-2013 season.
Jeremy Lin to Houston? 'Linsanity' or Insanity?