Jerry Falwell Jr. accuses Liberty University leaders of financial, sexual misconduct in lawsuit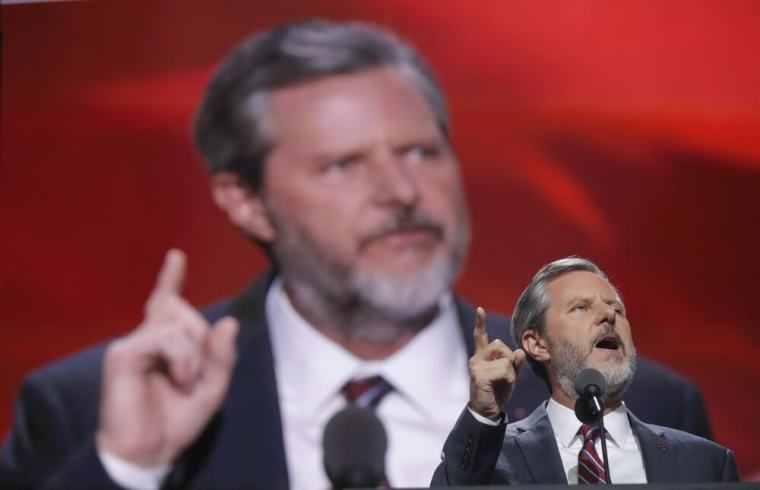 Former Liberty University president and chancellor Jerry Falwell Jr. has accused multiple past and current members of the Evangelical Christian university's senior leadership team of sexual misconduct and self-dealing in an amended lawsuit. 
First filed in July, the lawsuit also alleges the exploitation of the trademark and image of his father, Jerry Falwell Sr.
In his initial filing of the lawsuit on July 27, Falwell, who was forced to resign as president of the university in the summer of 2020 over a sex scandal, accused the institution founded by his father in 1971 of profiting from Jerry Falwell Sr.'s "brand of religious goods and services" without consulting the Falwell family or having the "authorization of the Dr. Jerry L. Falwell Family Trust."
The amended lawsuit, filed by Falwell's attorneys on Sept. 13, now names his brother, Liberty University Chancellor the Rev. Jonathan Falwell, and the school's President Emeritus Jerry Prevo, as defendants.
The court filing paints Liberty's leadership team as vultures who used the publicized sex scandal involving him, his wife and a pool boy as an opportunity to wrest control of the university's nearly $3.5 billion empire that exists largely thanks to his work, out of his hands.
"Commencing no later than the summer of 2020, certain members of the Executive Committee and the Board of Trustees maneuvered to eliminate Mr. Falwell from the leadership of Liberty and wrest control over the University and its sizable $2 billion endowment, upon information and belief, for their own benefit, without oversight by or interference from Mr. Falwell, who they knew would seek to protect the institution his father founded and stand in the way of their attempts to exploit Liberty for their own gain," the lawsuit states.
"Indeed, after Mr. Falwell left Liberty in August 2020, these members directed Liberty to dole out hundreds of thousands of dollars in self-dealing transactions, purportedly as 'donations,' to organizations controlled by these members and/or their close affiliates."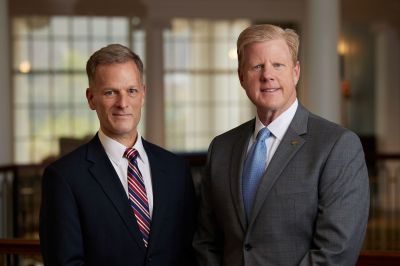 Among the close associates listed in the lawsuit is Franklin Graham, leader of Samaritan's Purse and president and CEO of the Billy Graham Evangelistic Association.
"Jerry Prevo assumed the presidency of Liberty University on an interim basis in August 2020, which role he held until May 2023. He now holds the title of President Emeritus. Prior to and concurrent with his interim presidency, Prevo was a member on the Board of Trustees and its Executive Committee, positions he continues to hold. William F. Graham IV became Vice Chairman of the Board of Trustees in 2021. Prevo served for many years on the board of Samaritan's Purse, which is, upon information and belief, under the control of Franklin Graham, father of William Graham and president of Samaritan's Purse," the lawsuit states.
"Upon information and belief, Franklin Graham is Prevo's closest advisor; during the limited times Prevo appeared on campus to fulfill his duties as interim president, he would speak with Graham virtually every day by phone before making any decisions. In the fiscal year ending June 2021, Liberty paid $200,050 to Samaritan's Purse. In the same year, Liberty paid another $200,000 to Hope Partners International, which is an organization that is, upon information and belief, controlled by Kirk Nowery, the former Chief Operating Officer of Samaritan's Purse," it continues. "In the following year, Liberty paid the organization another $414,960. Upon information and belief, Hope Partners International secured the 'donation' from Liberty by virtue of its ties to Prevo and Graham." 
In a statement to The Christian Post on Monday, Graham confirmed he and Prevo are longtime friends but appeared to dismiss any notion of impropriety in their business relationship.
"Liberty University is a great school and I knew its founder, Jerry Falwell, Sr. My son Will has served on the Board of Trustees there since 2014. Samaritan's Purse is supported by hundreds of thousands of individuals and organizations, and LU has been one of them. A Christian school giving to support missions and evangelism through Samaritan's Purse or any other like-minded organization is not unusual. As an example, one of the projects Liberty University gave to support was Samaritan's Purse relief work in Ukraine, where we have provided more than 200 million pounds of food in the war-torn country," Graham said.
"Samaritan's Purse has partnerships with many different universities. This year alone, we have had interns from 56 schools across the country, including Liberty University. These students regularly serve on volunteer mission teams in partnership with Samaritan's Purse. Right now, students from Liberty are working with our teams in response to the devastating wildfire in Maui as well as storms in Florida, and we have a team of staff currently on the LU campus for Global Focus Week, training students in North American disaster response."
Graham added that Prevo has been his friend for more than 20 years after they were introduced to each other by Falwell Sr. when Graham held his first evangelistic crusade in Anchorage, Alaska. 
"I applaud [Prevo] for steering the school back to its original vision to train champions for Christ," Graham said. 
Liberty University also said in a statement to CP that Falwell Jr.'s allegations are "improper and unsupported."
"In response to Liberty's compelling motion to dismiss his complaint, Jerry Falwell, Jr. filed an amended complaint containing improper and unsupported allegations designed to diminish former colleagues, family, and friends and to discredit the university where he formerly served," the statement notes.
"These personal attacks have no place in a legal dispute over the use of a person's name, image, and likeness. Liberty will file the appropriate response to these claims in due time and defend its legal right to continue the use of Dr. Jerry Falwell's name. Furthermore, we stand by our initial statement that Liberty University and its Board of Trustees have only sought to honor the visionary leadership of Dr. Jerry Falwell and the mission of training Champions for Christ."
While Falwell Jr., his brother, and sister, Jeannie, are co-trustees of the Dr. Jerry L. Falwell Family Trust, he argues in the amended lawsuit that Jonathan Falwell is trying to prevent his case from moving forward by claiming he had not recused himself from the operation of the Trust even though he previously stated this to Falwell Jr.
"Mr. Falwell commenced this action on July 27, 2023, on behalf of both the Trust, for which he was, at the time, a co-trustee, and himself individually and as a beneficiary of the Trust as well as Dr. Falwell's next of kin. Prior to doing so, Mr. Falwell consulted with his brother, Jonathan Falwell ('Jonathan'), who also a co-trustee of the Trust, during which Jonathan acknowledged he has a conflict of interest as it relates to his duties with respect to Liberty's use of the Falwell IP," the complaint states.
"As detailed herein, Jonathan is a high ranking official, trustee, and employee of Liberty, which is infringing and damaging the Falwell IP. During these communications, Jonathan also agreed to recuse himself from participating in Trust decisions as it relates to Liberty's use of the Falwell IP. Accordingly, Mr. Falwell commenced suit against Liberty, including by exercising his authority as the sole nonconflicted, non-recused co-trustee of the Trust."
Falwell Jr.'s lawsuit contends that "Jonathan inexplicably reversed course and claimed his consent was needed for the action to proceed, which he now asserts the Trust does not have."
Falwell Jr. filed a motion in the Circuit Court for the city of Lynchburg, "seeking a formal disqualification of Jonathan from acting in his capacity as co-trustee as it relates to Liberty's use of the Falwell IP."
"As detailed in the Disqualification Action, Jonathan suffers from a clear conflict of interest as it relates to Liberty's use of the Falwell IP. As a co-trustee of the Trust, he owes fiduciary duties to the Trust and all its beneficiaries to protect and maximize the value of the Falwell IP," the lawsuit states. "He is also a high ranking official, trustee, and employee of Liberty, which is infringing and damaging the Falwell IP. Indeed, as alleged herein, Jonathan's conflict of interest has prompted him to take actions, or fail to take actions, that constitute a breach of his fiduciary duties to the Trust."
Falwell Jr.'s lawsuit suggests that Jonathan Falwell is pushing back against the litigation for his own financial gain.
The lawsuit claims that Jonathan Falwell has served on Liberty's Board of Trustees for more than 30 years, and since April 2021 through the present, he has also been Liberty's campus chaplain. From 2010 until this March when he was promoted to chancellor, Jonathan Falwell also served as Liberty's vice chancellor for spiritual affairs.
Along with being "paid at least a six-figure salary" and "access to numerous financial perks," Jonathan Falwell also has access to the university's private jet and private vehicles.
"Upon information and belief, Jonathan has recently accepted another financial perk of the Chancellor's position and is now in the process of moving into a home owned by Liberty on top of Liberty Mountain overlooking the campus. Upon information and belief, at Jonathan's request, Liberty is also paying for the construction of a swimming pool on the property for the use of Jonathan and his family," the lawsuit states. "In addition, five of Jonathan's family members, including children and spouses of children, have recently become employed by Liberty in various roles."
The filing further argues that Jonathan Falwell is also benefiting financially from his relationship as senior pastor of Thomas Road Baptist Church, a role he took over after his father died in 2007.
"Through his relationship to TRBC, Jonathan is beholden to Liberty's interests in additional ways. For example, on three separate occasions between 2007 when Jonathan became senior pastor of TRBC and August 2020, Liberty paid millions of dollars to rescue TRBC from financial ruin," the lawsuit alleges.
Falwell Jr.'s lawyers also criticized Liberty University's board of trustees and executive committee for the unequal treatment he and his wife received compared with other high-ranking university officials who engaged in sexual misconduct.
"The standard these members of the Board and its Executive Committee purported to hold Mr. Falwell to was different from the standard that Liberty had applied to other high-ranking officials of the University. For example, one former University President was sued by a former Liberty employee for sexual harassment, and Liberty retained him in that position notwithstanding that a payment had to be made to that employee as a result," the lawsuit states.
"And it is common knowledge within the relevant communities that Ed Hindson, a recently deceased televangelist and former dean of Liberty's School of Divinity, had an extramarital affair during his time at Liberty, and Liberty nonetheless employed him as a high-ranking official after the affair."
The lawsuit also mentions former Liberty Provost Ron Godwin "had an extramarital affair with his secretary while working at a Liberty affiliate Moral Majority, Inc., but, again, Liberty nonetheless employed him as a high-ranking official after the affair."
"A current member of the Executive Committee has admitted to previously having more than one affair. All of these incidents involved situations in which officials themselves were engaged in affairs or other misconduct, in contrast to Mr. Falwell, who had not engaged in similar misconduct or had any affair. And Liberty nonetheless had permitted these individuals to continue in its employ, consistent with a long-standing culture of forgiveness that is part and parcel of Dr. Falwell's brand of evangelicalism."
The lawsuit states that Falwell Jr.'s work at the university was "responsible for Liberty climbing out of approximately $100 million in debt" to become the powerhouse university it is today.
"Under Mr. Falwell's leadership, Liberty's finances were transformed from being crippled by debt to possessing nearly $3.5 billion in net assets and one of the largest and fastest growing endowments of any university in the nation," the lawsuit argues.
The lawsuit contends that the relationship between his family and the university is now so bad he is no longer allowed to be on the campus.
"Once Mr. Falwell was gone, Liberty dug in and continued to treat the Falwells in an ugly manner inconsistent with the principles and values associated with the JERRY FALWELL brand," the lawsuit explains.
"This included, among other things, banning the Falwells from campus grounds (where Dr. Falwell — Mr. Falwell's father — is interred); 'photoshopping' them out of pictures; taking down photos of the Falwells that had been long-displayed on campus; harassing Mr. Falwell through meritless litigation, and depriving Mr. Falwell of retirement funds. The JERRY FALWELL brand does not stand for such abhorrent treatment, which is antithetical to the reputation by which it is known."