Jerry Falwell Turns Down Trump's Education Secretary Offer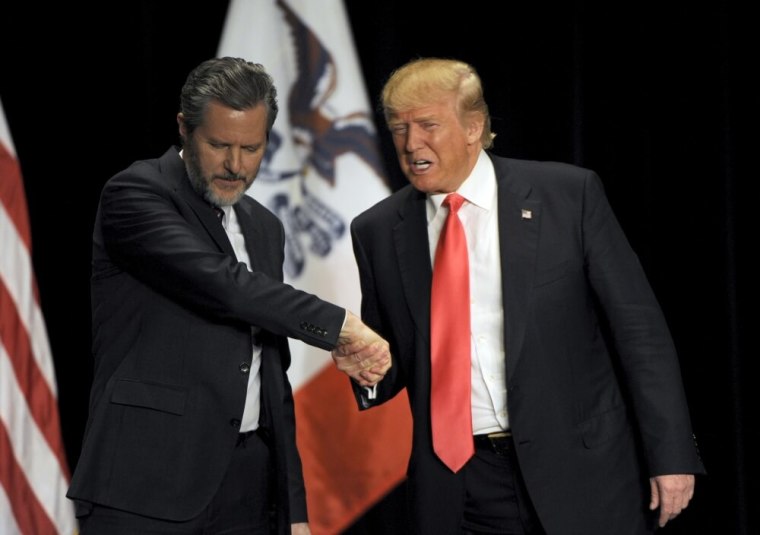 Liberty University President Jerry Falwell Jr. said President elect-Donald Trump offered him the position of education secretary, but he had to turn it down due to his 16-year-old daughter and his own responsibilities at the university.
Falwell said Trump met him last week in New York and offered him the job requiring a commitment for four to six years, The Associated Press reported Saturday.
Falwell explained he refused to accept the Cabinet position as he cannot leave Liberty for more than two years, and nor does he want to move his family, especially his daughter.
The Liberty president spoke about the job offer just days after Trump announced he had picked charter school advocate Betsy DeVos for the position.
Falwell endorsed Trump in January despite criticism, including by many students of Liberty. He explained his decision while speaking to the student-run newspaper Liberty Champion in March, saying he became Trump's friend in 2012, after the real estate mogul came to speak at Liberty University.
Falwell also said he spent time on the campaign trail with Trump before the Iowa Caucus, adding that he went with his family and Trump paid for it. Falwell said that Trump invited his family to sit up front with him and gave them a tour of the "big living room with this big screen TV," the master bedroom, and let his son, who is a pilot, sit in the cockpit during take off. "Then we sat there with him the whole time, just across the table," he said.
"He offered us food, … so he brought out Wendy's cheeseburgers. He ate cheeseburgers, and we ate cheeseburgers. Then he put on a concert. He found out that when I grew up in the 70s, I was an Elton John fan. So, he put the concert on the big screen. He was doing it all himself. He was the one serving the food. He was the one waiting on us. I thought it would be like caviar and something fancy, but it was cheeseburgers — Wendy's cheeseburgers."
Falwell continued that he believes those criticizing Trump were career politicians scared of change.
Falwell's embrace of Trump was controversial among Liberty students. One group of students started a petition denouncing Falwell. 
"Associating any politician with Christianity is damaging to the Gospel of Jesus Christ. But Donald Trump is not just any politician. He has made his name by maligning others and bragging about his sins. Not only is Donald Trump a bad candidate for president, he is actively promoting the very things that we as Christians ought to oppose," the petition stated.
A student leader later said the majority of students at Liberty would vote for Trump. "They are not blindly following President Falwell, but rather have a shared understanding of the danger a Hillary Clinton presidency represents and what it could mean for the Christian freedoms we hold dearly," Jack Heaphy, the university's student body president, said, according to The Blaze.