Jesus Has 'Brown Hair and Beard, Wears White Robe' Says 'Miracles From Heaven' Girl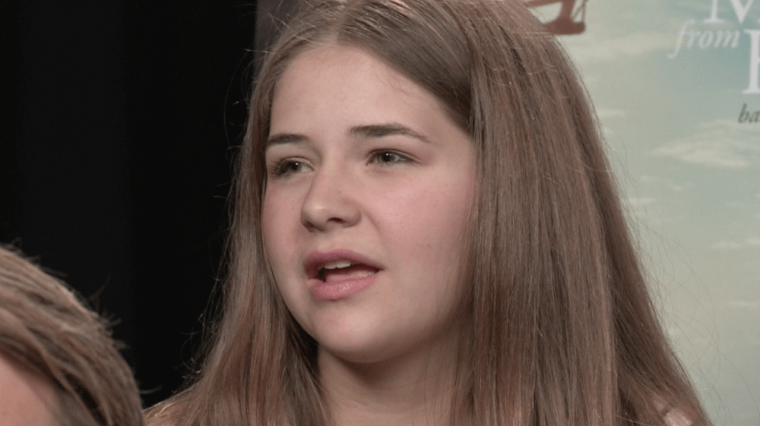 Annabel Beam, the 13-year-old girl who 9 when she suffered an accident that she says led to a near death experience and her soul being transported to Heaven, is the subject of the film "Miracles From Heaven," and has given a detailed description of how Jesus Christ appeared to her.
"He had brown hair and a beard and he had … a white [robe] like what they would wear a long time ago," Beam said in an interview with TheBlaze. "And then … a purple sach."
In 2011, Beam fell headfirst 30 feet down a hollowed-out tree, and was trapped there for hours before she was rescued. When she was finally freed, however, she was somehow also cured of a long-standing pseudo-obstruction motility disorder, which for years only allowed her to eat using feeding tubes.
She said Jesus Himself told her that her pain would go away.
"I didn't exactly think I would be healed or anything, because when Jesus said, 'When the firefighters get you out, there will be nothing wrong,' I thought he meant from the fall," she said. "So I didn't think I would be healed. I was just excited I could play."
Beam remains grateful for her recovery, stating: "It was very, very cool. … After it happened, I was very excited, because usually I couldn't do anything except for lay on the couch."
During an interview with The Christian Post back in March, Beam was asked whether "Miracles From Heaven" captured her experience in Heaven, to which she said "No!"
"In my experience I didn't have to go through a journey to go to Heaven," she told CP. "I was just kind of there."
Kevin Beam, her father, said the family's faith was central throughout the ordeal.
"It was a daily reset for me and I feel like on the surface I had to be incredibly strong, first off for Anna because she was going through so much physically on a daily basis, that I needed to be strong for her and then for the entire family," he said.
The mother, Christy Beam, added it is sometimes possible to become angry with God at times of suffering, but He responds with love.
"I look back right now and reflect on that time when I was so angry and frustrated, and the sweetest thing about that is, as angry and as frustrated as I got at Him, He never, ever, ever was angry or frustrated at me and always showed His love through others to me. So never at any time was I alone," she said of God and her experience.
She added: "Even when I thought that I was alone and in a dark place, He was still reaching and loving me through the arms and the hands and the help and prayers [of] other people."