'Jesus on the Cross' Scarecrow in UK Removed After Debate Over Offensiveness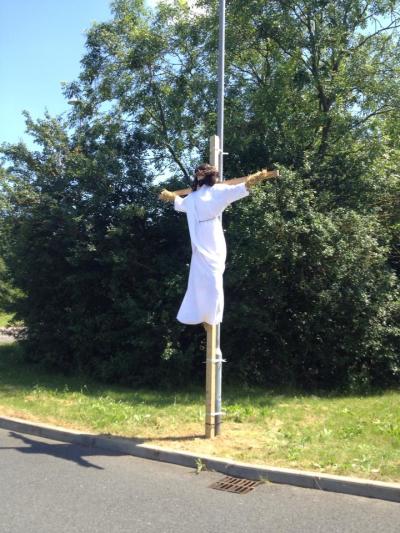 A "Jesus on the cross" scarecrow used for a musicals-themed scarecrow festival in Cambridgeshire in the U.K. has been removed after online users argued it was offensive.
Radka Shaw said that she and her children, a Christian family, made the figure, which was set up on a lamppost next to a cemetery, to represent the "Jesus Christ Superstar" musical.
"I made the scarecrow with the intention of joining in with the community spirit," Shaw said, according to BBC News.
"There was never any intention to upset or offend anyone. I am still at a loss to understand all the commotion and discussion about it."
The scarecrow attracted a great deal of debate on the town's Facebook page, with a number of users arguing that it is "offensive."
"For me, Jesus as a scarecrow is just disrespectful. I was horrified when I came home earlier," said Sarah Kate Fairclough, a resident.
"It's absolutely disgusting and needs taking down now. If you want to be so disrespectful, put it up at your own house and not on the side of the road."
Karen Smith added, "Scarecrows traditionally have tended to be figures of fun, rather stupid and not to be taken seriously, and as I personally believe Jesus to be the Son of God I would not like to see this disrespected."
Others such as Claire Johnson defended the figure and said that it was a "shame" that it was taken down.
"This was an entry for a community fun competition and in keeping with the musicals theme. Jesus Christ superstar is a musical so the entry is spot on and if you are Christian then this is a factual depiction so what is the issue?" she wrote.
"It is disrespectful that people's efforts to create a scarecrow for the town have been criticized by so many. I am catholic so believe the crucifixion took place and therefore the image is factual, if you don't believe then surely this is an image from a musical like all the other fab scarecrows?"
Shaw said that she has removed the scarecrow from the cemetery and placed it near her own property. The mother revealed that Mary Stokes, the organizer of the scarecrow festival, had asked her to remove it.
"It had been put on a street light and highways departments do not allow anything to be hung from them," Shaw said. "We have obliged, much to the children's disappointment.
"However, Jesus will be reinstated where we live so that villagers will still have the opportunity to view him, as long as they pass by car."
Earlier in June, an Australian gambling company outraged Christians by sending a hot-air balloon that looks like Brazil's Christ the Redeemer statue into the skies above Melbourne as a 2014 FIFA World Cup advertisement.
The 151-foot balloon featured Jesus wearing an Australian soccer jersey with the words "#KeepTheFaith."