'Jihadi John' Now on the Run From ISIS, Fears Militants Are Plotting to Kill Him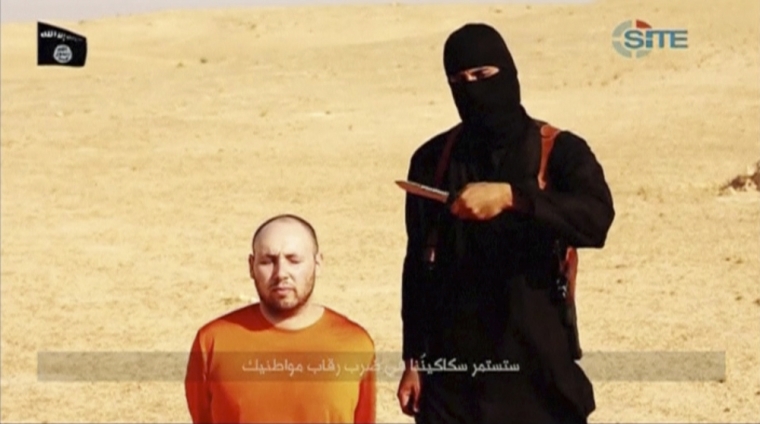 The Islamic State's most famous executioner, "Jihadi John," notorious for being featured in videos last year that purportedly showed him beheading Western journalists, aid workers and other innocent victims, is now allegedly on the run from the terror group amid fears that other ISIS militants are out to kill him.
Mohammed Emwazi, a 26-year-old Kuwaiti-born former London resident who is more commonly known by his alias of Jihadi John, became infamous late last summer when a series of widely publicized videos allegedly showed him executing Americans Steven Sotloff, James Foley and Peter Kassig, as well as British aid workers David Haines and Alan Henning.
The videos, in which Emwazi also recited ISIS' propaganda messages before killing his victims, were arguably the first real glimpses into just how barbaric the Islamic State really is when it comes to implementing its brand of jihad.
Although Emwazi and his black balaclava-covered face became the early face the Islamic State's jihadi movement in the eyes of many in the West, Jihadi John is now supposedly running in fear from the wrath of the very same terrorist group he promoted.
In an interview with the British site Express, an anonymous source claimed that Emwazi is believed to have fled from the terrorist group in Syria several weeks ago. The source added that ISIS would dump him "like a stone or worse if they feel he is no longer of any use to them."
"It is possible he will end up suffering the same fate as his victims," the anonymous source stated.
As it took months for the world to identify who the man behind the mask speaking in the ISIS videos was, it wasn't until February when a long-time friend of Emwazi's told The Washington Post that he had "no doubt" that Jihadi John is Emwazi.
"He was like a brother to me," the anonymous friend told the Post. "I am sure it is him."
According to the source in the Express report, Emwazi is now fearful that his unveiling as the ISIS executioner has decreased his value to the terrorist group.
Additionally, ISIS caliph Abu Bakr al-Baghdadi recently issued a call to ban the terrorist group from releasing any more execution videos due to fears that it is hurting the group's image. Although the group can still release propaganda videos, videos must not include scenes where executions occur.
The Express source added that Emwazi is also fearful that other ISIS militants who are jealous of his fame are plotting to kill him.
As Emwazi is likely to be jailed and prosecuted for brutally mutilating numerous innocent people should he flee to Britain or anywhere outside the caliphate, the report states that the University of Westminster graduate has likely associated with another Syrian militant group in order to help him keep a low profile.
A former acquaintance of Emwazi, who knew him from school, said it's "laughable" for Emwazi to consider himself Muslim and for him to justify his murderous actions in the the Islamic faith.
"He smoked drugs, drank and was violent toward other boys," the acquaintance told the Express. "The fact he portrays himself as a strict Muslim is laughable and shameful. I never saw him pray or wear Islamic dress. He would not even mention religion at all."
"Being a Muslim myself I was very aware of it at the time," the source continued. "We had a gang and he was very much a part of it — which shows he is a total hypocrite."