Jill Duggar and Derick Dillard of '19 Kids and Counting' Celebrate 1-Year 'Skypiversary,' Continue to Show Joy of Christian Marriage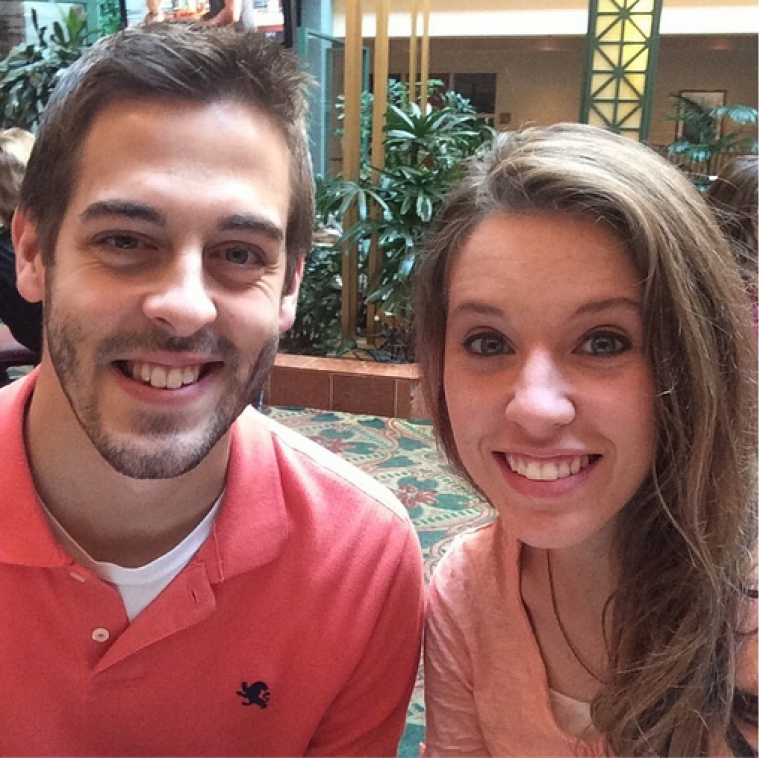 Jill Duggar and husband Derick Dillard are celebrating their one-year "Skypivesary," which is when they had their first Skype session.
"Celebrating our 'Skypiversary.' One year ago today my husband and I Skyped for the first time!" Duggar captioned the new photo on Instagram.
She and Dillard began courting in August 2013 and had to rely on technology for their "dates," as Dillard was serving as a missionary in Nepal at the time. The Duggar and Dillard families are both Christian and follow very traditional rules of courtship. Jill and Derick were set up by her father, Jim Bob, who later took her to Nepal to formally "meet." By then, things were pretty much settled between them.
"When my dad first introduced Derick and I [remotely], we spent hours texting, calling, and talking on Skype while 8,000 miles away from each other," Duggar told ABC News in April 2014. "And when we finally met in person in Nepal, we knew within days that we wanted to spend the rest of our lives together."
The couple abstained from kissing and physical contact, except for hand-holding and side hugs, until they exchanged vows, something that was incredibly important to both Duggar and Dillard.
"We want to think about the importance of marriage," Jill told People after they said I do. "And what it means to be married. It was worth the wait."
Duggar's older brother Josh has been married to his wife Anna since 2008 and the couple have three children. Her sister Jessa recently announced her own engagement to beau Ben Seewald; the couple courted for 11 months before making the decision to marry.
All three couples courted before getting engaged, and marriage soon followed. In their wedding vows, they made pledges to be faithful to one another, and Josh and Jill have worked hard to share their happiness and faith with those around them.
"We would like to encourage the young people out there who are considering a relationship or getting married, to wait for God's best in their life partner," Josh and Anna wrote on their website. "If you have made mistakes, start from where you are and let God be the sole proprietor of your life … including your love life! God is interested in you & the relationships in your life!"
Michelle and Jim Bob Duggar have been married for 30 years and try to share their wisdom and encouragement with their children, especially when it comes to faith and marriage. They are fully involved in the courtships and provide a sounding-board when necessary.
"The Duggar family gets asked a lot of questions," Seewald told People. "A lot of times we take it as a lesson, and we ask other people who are older and wiser than us to share wisdom with us about relationships. It's an important thing."
                                          Jill Duggar and Derick Dillard shares first kiss during wedding ceremony