Jim Bakker: God Told Me 1st Horse of the Apocalypse Is Now Released, Trump Is Respite Before the End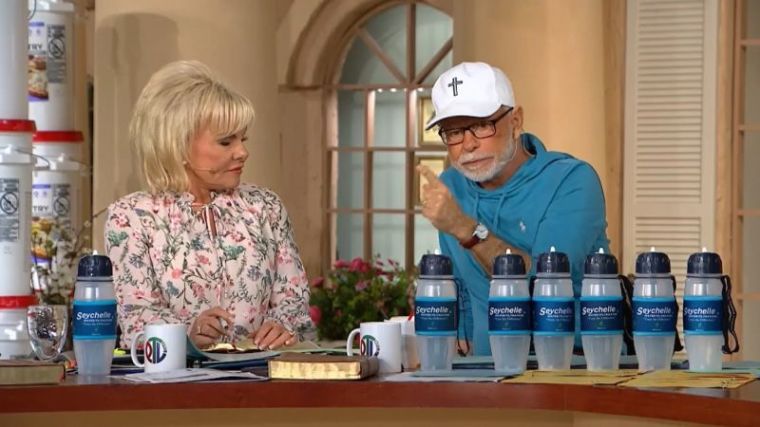 Controversial televangelist Jim Bakker has claimed that God spoke to him as he was reading Revelation 6 in the Bible and told him that the first horseman of the Apocalypse has been released upon the world, with President Donald Trump being a "respite" before the End Times.
Bakker, who regularly talks about the end of the world on his weekly television show, and sells food items and survival gear meant to aid believers in perilous times, said earlier this week that he recently asked God some big questions in prayer.
"You need to give me some answers. What is going on in this crazy world — there is such warfare amongst our own people, in America," he pleaded.
He then said that he opened up his Bible, and God "brought me back to where I preach all the time, Revelation 6," namely the narrative about the four horsemen of the Apocalypse.
Bakker shared with the audience the exact words that he says God told him:
"Now listen to me. Donald Trump is a respite in these troubled times, and I sent him in grace to give you time to prepare for what's coming on Earth."
Bakker argued that the first horse of the Apocalypse has "started to ride," as God revealed to him, and said that the horseman is not Jesus Christ, but the "evil spirit of the Antichrist" that is "conquering the world."
He read from Revelation 6:2: "And I saw, and behold a white horse: and he that sat on him had a bow; and a crown was given unto him: and he went forth conquering, and to conquer."
The televangelist interpreted that the rider is "riding throughout America," and that "he hates the Gospel, he hates the United States."
He urged believers to prepare for the end of days and for the harvest times that are coming.
"God has given us a man who is not afraid to fight. We have a president people think is crazy," he added, speaking of Trump.
"They call him crazy, but he's making peace treaties, he's doing all the things to try to solve the world's problems and God has put him on Earth. God spoke to me the other night, He said, 'I put Donald Trump on Earth to give you time, the church, to get ready.'"
Bakker, who lost his Praise the Lord Ministries in the 1970s and spent five years in prison for financial wrongdoing, claimed last month that Trump is being targeted with assassination attempts.
He said that "there are probably 100 hitmen hired to kill Trump, or more. I know this in the spirit. He is so hated that they want him dead."
Speaking of his time behind bars, he reflected: "There are people I've met in prison that for not money, but for fame, would kill the president if you gave them a few hundred dollars."
While there have been various claims and analyses about how Trump's presidency fits in with End Times narratives, including by Paul McGuire and Troy Anderson, authors of Trumpocalypse: The End-Times President, other biblical experts have refuted the suggestions.
Some have speculated that the U.S. president is "the last trump' before the End Times mentioned in I Corinthians 15:52. Dr. Samuel Lamerson, professor of New Testament and president of Florida's Knox Theological Seminary, told The Christian Post in January 2017 that such connections are "ridiculous," however.
"First of all, it only works in the English language. The New Testament was written in Greek. Second of all, it only works in the King James Version and some other older translations. Many other translations will have 'trumpet' instead of 'trump,'" Lamerson told CP at the time.
"It's a textbook example of how not to read the text," Lamerson added. "It's what we would call an exegetical fallacy.
"These ideas that somehow the current president is named in the New Testament is the sort of thing that I teach my students to avoid at all costs."