Jodi Arias Spared Death Penalty Due to Hung Jury; May Spend Life in Prison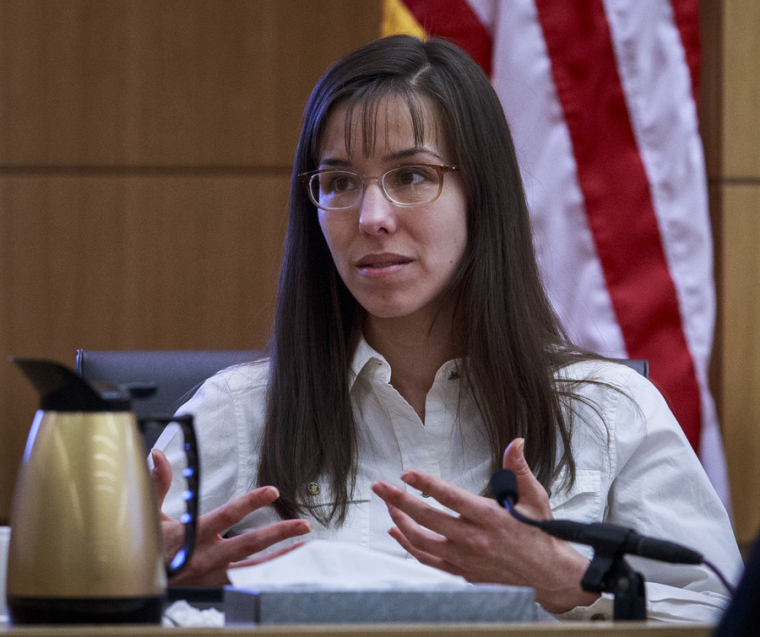 Jodi Arias, the woman convicted of killing her former boyfriend, Travis Alexander, will either be spending life in prison or eligible for parole after 25 years, because a second jury was unable to reach a unanimous verdict on whether to sentence her to death on Thursday.
Arias was put on trial two years ago for the gruesome murder of Alexander, who was stabbed, had his throat slit, and was shot in the head. She was found guilty of first-degree murder in May 2013, but the jury in that case was unable to reach a unanimous verdict on the death penalty. The judge then ruled that the sentencing portion of the case would be handed to another jury; the guilty verdict would stand and the jury would only rule on the punishment.
The jury received the case on Feb. 25 after listening to hours of testimony on both sides. Finally, after a nearly 26 hours of deliberation, the jury returned with a note to Judge Sherry Stephens stating that they couldn't reach a verdict, and even if given more time it wouldn't help them come to an agreement. The jury also stated that several members wanted to be removed if the judge ordered them to take more time to reach a verdict.
Jurors who spoke to the media said, "... 11 of the 12 were in favor of the death penalty," according to USA Today.
Because of Arizona state laws, the hung jury led to a mistrial. Stephens dismissed the court and said that she would issue a ruling as to whether Arias will be eligible for release after 25 years or remain behind bars for the remainder of her life on April 13.
The victim's family has repeatedly said that the trial and sentencing has left them traumatized, with having to relive Alexander's final moments in graphic detail. Arias will serve her sentence at the Lumley Unit in the Arizona State Prison Complex-Perryville near Goodyear, Arizona.